- James Reid, Owner of StorCo Self Storage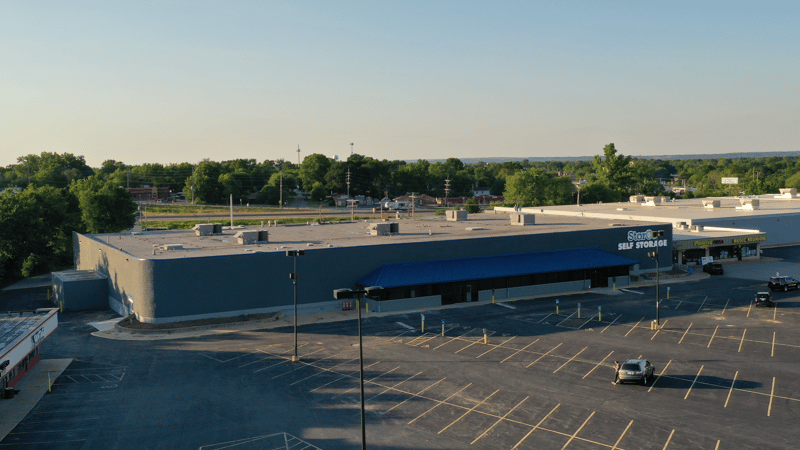 Fulfilling a Need in the City of O'Fallon
StorCo worked with the city to change the Zoning use in a high traffic corridor and the City of O'Fallon welcomed the proposed use with open arms. The result was a $7.5 million conversion project, delivering a 2-story Class A storage facility with over 70,000 net rentable square feet and more than 700 units to fit the needs of the city and the surrounding area.
The new two-story StorCo Self Storage includes 53,737 square feet of existing space with an additional second floor added to complete the facility layout. The site was built out for full climate-controlled, indoor storage, perfect for keeping personal belongings or business inventory in great shape in the temperature and humidity extremes of Missouri, which ranges drastically from very humid to very dry.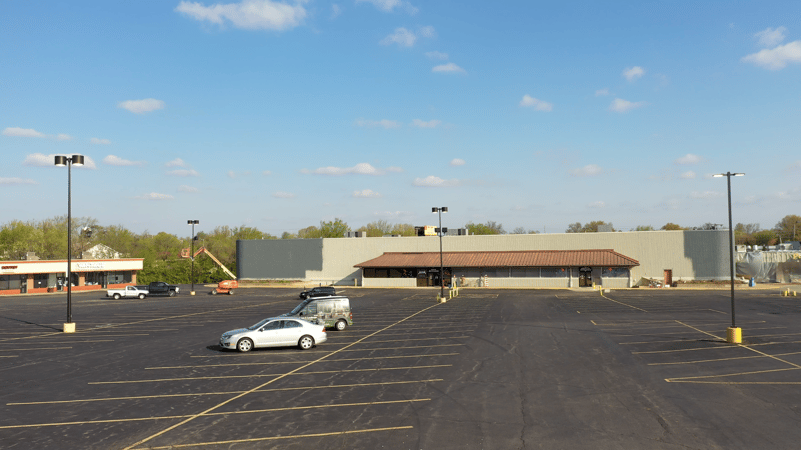 Designed with Efficiency in Mind
Once the large trampolines and tens of thousands of athletic safety foam blocks were removed and repurposed at local gyms and businesses, the lighting, alarms, security and fire protection was of top priority for StorCo's recognized standards. "We have to protect our client's items and provide an effortless approach to assist with moving" Reid insisted.
The creative layout consists of a new mezzanine while accommodating an existing mezzanine to capture the most rentable square footage possible. An engineered mechanical system helped minimize ductwork and maximize efficiency, which led to lowering construction costs, maintenance, and monthly recurring costs. A lighting photometric design was developed for the facility's private rooms, corridors, common areas, and units to achieve safe and effective lighting levels throughout the facility. Occupancy sensors for optimal energy savings control the energy efficient interior LED lighting while exterior LEDs controlled by photocells and time clocks ensure exterior safety.
Heavily focused on serving the community, StorCo designed this facility to also incorporate utilities in the front of the building to accommodate events such as drive-in movies, 4th of July celebrations, concerts, and more.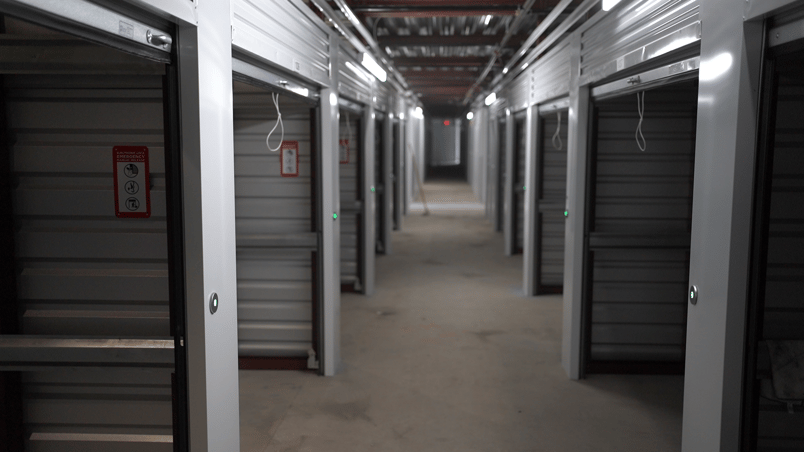 Enhancing the Customer Experience with Cutting-Edge Smart Storage Technology
Driven to be a leader in the storage industry by delivering the most innovative experiences, ease of use, and excellent service, installing the industry leading smart lock technology integrated with their property management software was a no brainer.
With the Nokē® Smart Entry system, tenants are able to access the facility's gate, man doors, and elevators as well as their individual unit from an app on their smartphone. In addition to a more convenient way to access the facility and units, customers can complete the rental process, receive their digital key, and instantly move into their smart storage unit for a fully contactless experience if they choose – although management is onsite daily for those who prefer a more traditional experience.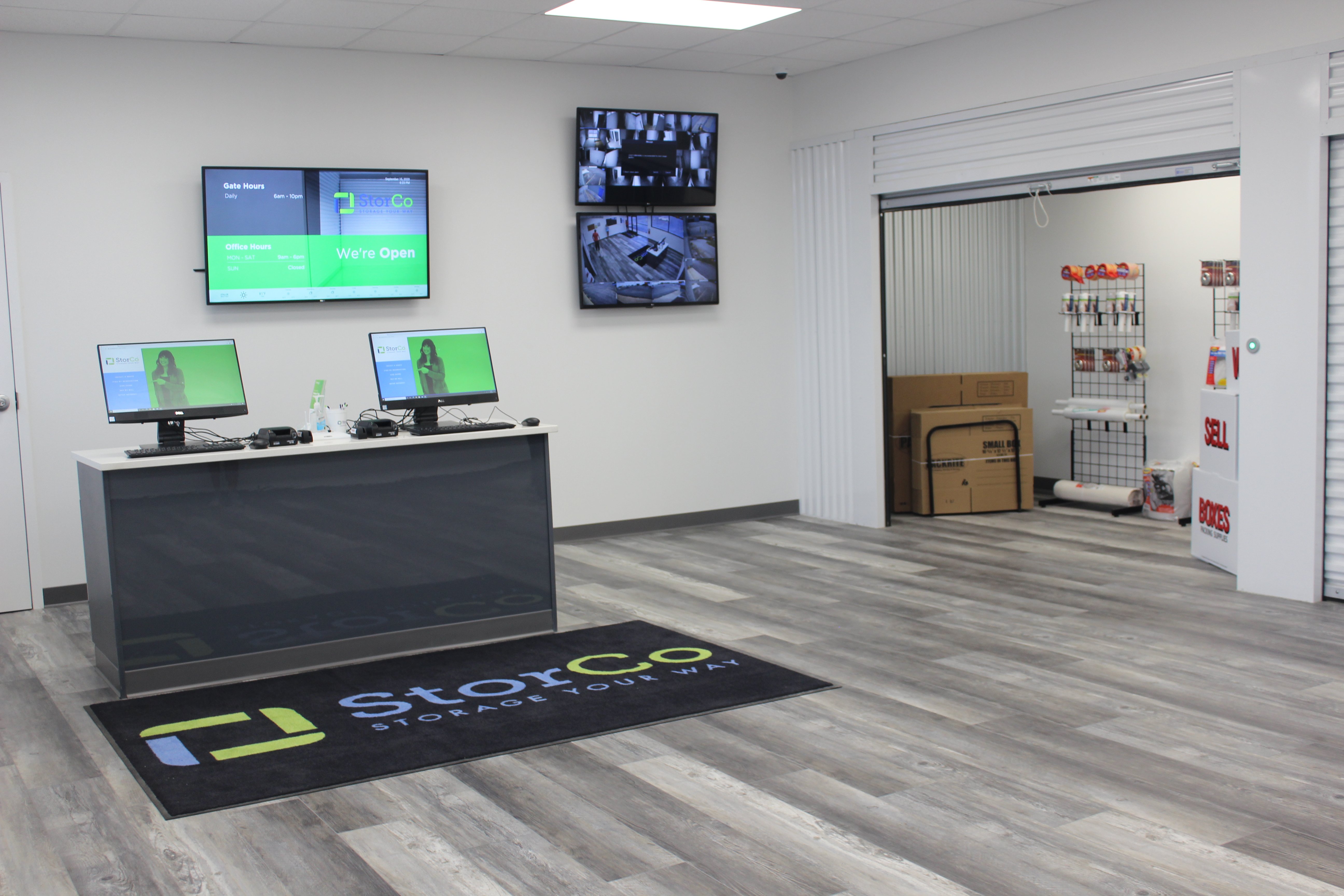 Serving the Community
The O'Fallon StorCo Self Storage facility opened with approximately 740 units, hosting a grand opening event on July 3rd with food vendors, live music, and a fireworks display.

Since opening, StorCo has had the opportunity to bring the community together by providing a drive-in opportunity, allowing them to partner with a variety of profit and nonprofit companies on Friday nights. Hosting events such as pet adoptions with Strays Rescue with the drive-in movies, church services, and concerts, StorCo is providing a sense of healing and normalcy during this COVID-19 pandemic, while maintaining a safe environment. The parking lot naturally angles downward which created the perfect place for Friday night movies on the 40ft screen, where families and friends can bring their coolers and chairs and hang out - 6 feet apart, of course.