NOK
Ē

® ELEVATE AUTOMATIC DOOR OPENER

Your tenants can now open and close their individual self-storage unit doors from the palm of their hand.

Elevate your customer experience (and your unit doors) with the Nokē Elevate automatic door opener. In addition to seamless, automated mobile entry, each unit is secured with an internal electronic lock. Take the hassle out of processes like manual over locks and lock drilling, all while providing ultra premium, ADA complaint smart units.

Nokē Elevate meets certain state's interpretation of ADA requirements for self-storage, helping you provide superior convenience and compliance.

Open and close your units with the push of a button from your custom branded smart phone app.

The Nokē Elevate automatic door opener allows operators to provide another way of offering premium units that command higher rental rates with automated, mobile app opening and closing of unit door, PLUS enhanced monitoring and features like Digital Key Sharing.
READY TO LEARN MORE ABOUT NOK
Ē

® SMART ENTRY?

Check out our video case studies to hear from operators using the smart entry system.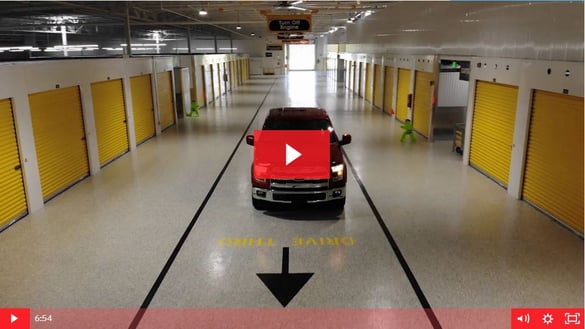 NOK
Ē

® SMART ENTRY LIMITED WARRANTY Performance Warranty.

JANUS warrants to Customer that for a period of two years after its shipment and installation to an applicable Site, the Aggregate Solution and the Software that is a part thereof, shall operate in an End User Environment substantially in accordance with the Documentation.

Exclusions.
Notwithstanding the preceding warranties, JANUS shall have no responsibility or liability of any kind, whether for breach of warranty or otherwise, arising or resulting from:

Customer's or End User's failure to: (i) correctly install any Updates or other modifications to the Aggregate Solution provided by JANUS, (ii) prepare a the specified End User Environment prior to the Aggregate Solution installation or to maintain such End User Environment and Aggregate Solution thereafter, (iii) grant access and security authorization, or (iv) provide necessary communications mechanisms;
Errors resulting from misuse, abuse, negligence, or improper use of all or any part of the Aggregate Solution; or problems to or caused services (including installation services) not provided by JANUS;
Aggregate Solution modification, amendment, revision, or change by any party other than JANUS or JANUS's representative expressly authorized to make such modification, amendment, revision, or change; or
Electrical failure, Internet connection problems, or data or data input, output, integrity, storage, back-up, and other external and/or infrastructure problems, which shall be deemed under the Customer's and its End User's exclusive control and sole responsibility.
Exclusive Remedy.
Customer's and its End User's exclusive remedy for the previous section shall be for JANUS, in its sole discretion,
to: (i) for Hardware, repair or replace materially nonconforming Hardware, (ii) for Software, use commercially reasonable efforts to either correct any verifiable material nonconformity or to replace the materially nonconforming Software; provided, however, if JANUS cannot provide either remedy, upon receipt of the materially nonconforming Software, JANUS shall refund Customer the License Fee paid to JANUS for same; and (iii) for Services, re-perform the affected Services, or waive or refund (as appropriate) the fee for such Services.
Disclaimer of Warranties.
THE LIMITED WARRANTY AND EXCLUSIVE REMEDY SET FORTH PREVIOUSLY ARE MADE FOR THE BENEFIT OF CUSTOMER ONLY, AND ARE EXPRESSLY SUBJECT TO CUSTOMER'S PAYMENT OBLIGATIONS TO JANUS. DEMONSTRATION COPIES OF THE AGGREGATE SOLUTION PROVIDED TO CUSTOMER HEREUNDER ARE PROVIDED "AS IS" FOR ALL PURPOSES. JANUS MAKES NO, AND DISCLAIMS ALL OTHER WARRANTIES, REPRESENTATIONS, OR CONDITIONS, WRITTEN OR ORAL, OR EXPRESS, IMPLIED, OR STATUTORY, INCLUDING ANY IMPLIED WARRANTIES OF MERCHANTABILITY, TITLE, INTEROPERABILITY, DATA ACCURACY, OR FITNESS FOR A PARTICULAR PURPOSE WITH RESPECT TO THE AGGREGATE SOLUTION, SERVICES, SUPPORT, OR ANY COMPONENTS THEREOF. WITHOUT LIMITING THE FOREGOING, JANUS DOES NOT WARRANT THAT ALL ERRORS CAN BE CORRECTED, OR THAT OPERATION OF THE AGGREGATE SOLUTION SHALL BE UNINTERRUPTED OR ERROR-FREE.