Keeping Your Storage Doors Clean and Signs That it's Time for a Replacement
Think about how frequently your storage doors are used, and the environmental elements they're exposed to on a regular basis. These things add up, making your door rust, degrade, or even break down over time. Down-time represents money coming out of your pocket and being allocated between costly repairs and decreased productivity. With industry leading steel roll up doors, maintenance costs are minimized so you can add more money back into your pocket. In this blog, you will learn the steps for preventative door maintenance and how to determine if it's time for a storage door replacement!
How to Ensure Storage Door Longevity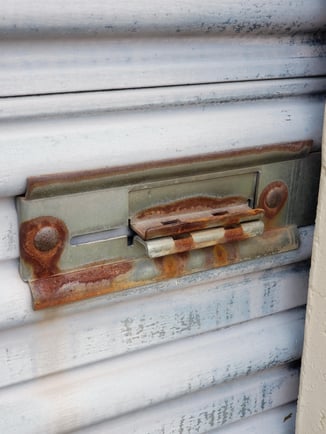 While the look and feel of a self storage facility's door is highly valuable, there is one factor that remains supreme in importance: safety. If roll up doors are running off the tracks, or if they're difficult to open and close, they're posing a safety risk to both tenants and facility staff members. Old storage doors that are hard to operate are dangerous doors, plain and simple. Putting off maintenance or replacement is not worth running the risk of hurting someone.
If your roll up doors did not include pre-greased springs at the time of purchase, it's necessary to perform an annual checkup on their overall functionality and ease of use to make sure your tenants are getting the best experience possible with their units.
Once a year, it's crucial to examine your storage doors to ensure the track alignment is correct, and for the springs to be greased.
Pro Tip: Purchasing a door with pre-greased springs located inside the barrel assembly, allows you to skip the step above.
In general, white lithium grease is an appropriate product to apply to the springs. This grease ensures that the springs work smoothly during operation of the door, preventing any locking up or malfunctions. Never disassemble the springs themselves! To fix the operation of the doors, try adjusting the tension instead.
On the industry leading self storage doors, the primary item that needs to be maintained is the tension on the door. Its patented tension device allows anyone to easily adjust the tension of both the left and right springs at the same time. This allows the same tension on both the right and left side of the door curtain which ensures that when a customer opens their unit, the door will roll up and down evenly.
Signs It's Time to Replace Your Doors
It's inevitable that even the most meticulously maintained doors will eventually reach a point where it's time to replace them with a new product. When you start to notice chalking on the face of the door, the color of the door fading, or the doors are no longer functioning as they should, then it's time to replace those storage doors. While you may be tempted to just paint or apply a "restorative" coating, this only adds to the problem.
"When driving up to a facility, the impression given by the overall look of your facility is the first impression. Older doors that are past their life show well before trying to lift it. Would you let your house look the same for 20 plus years without renovating? Then why let your business?"
-Josh Rolland, Eastern Regional Sales Manager for Janus International
Broken springs are an issue most facilities face at one point or another. When someone attempts to open the door and a spring is broken, it will be very difficult to do so. If someone is able to forcibly open the door, the entire curtain will simply "balloon" back into the unit instead of rolling up around the axle assembly. This is certainly a situation where the door will need to be replaced. However, before jumping straight to replacing these storage unit doors, make sure that lack of tension on the springs isn't the culprit.
Note: While some doors have a very simple method for adjusting your tension, this can be very dangerous on other doors and should only be attempted by a professional door technician.
Post door replacement at Public Storage in Ventura, CA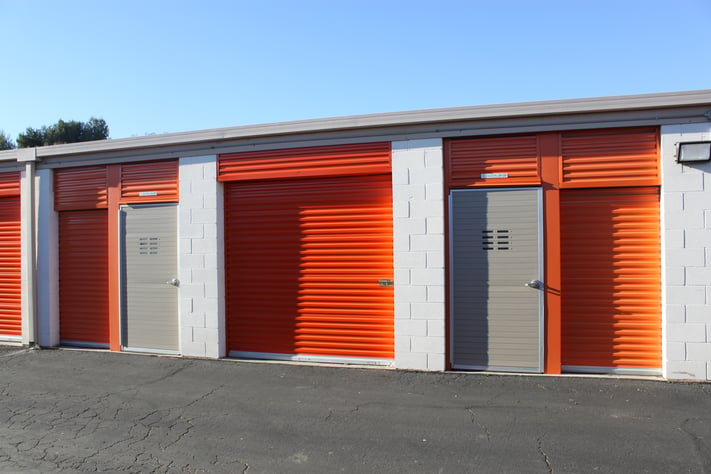 As for coating your storage door with a product that claims to "restore" its luster, again, this is merely a short term solution and won't last long. These coatings are much like Armor All used on car tires or the interior dash area of our cars - it looks great for only a short amount of time. Once your doors become an eyesore or begin to malfunction, it's definitely time to replace them.
Aside from the obvious aesthetic and improved functional appeal, there are some considerable monetary benefits to a door replacement project as well. By installing easy to operate and accessible doors, you can increase rental rates and also take advantage of some serious tax benefits such as cost segregation and the CARES Act, resulting is staggering cash flow.
The Bottom Line
When it comes down to it, how the customer perceives the quality and safety of your facility will determine whether a self storage owner/operator is able to rent their space as a low cost provider or at premium pricing levels.
Be sure to always look out for broken springs, chalking or fading, and inability to maintain appropriate tension. If there is too much tension, the door will "rocket" into the open position, but if there is not enough tension, the door could fall back down causing it to hit someone. This is a common thing that has happened to customers trying to operate their unit door. Regular maintenance is key to ensure well-functioning doors for your customers and to prevent liability.