Meeting the Demands of Today's Customer with Self Storage Automation
Automation technology has made drastic impacts on a wide range of industries in the last decade. We've seen things like food delivery, car rentals, travel industries, and banking all experience major changes in the way that customers can use and interact with their services—all by using their smartphone. Modern customers are expecting to be able to find what they need, purchase the product or service, and conveniently get what they want on the go—no matter where they are.
Many industries are using automation to adapt to what the modern customer expects and finding ways to offer a better, more convenient experience. The self-storage industry is not immune to being disrupted by this technology and storage operators are utilizing the capabilities of smartphones to offer customers an easier and improved self-storage experience.
Let's take a look at some of the key benefits of automation technology and see how smart entry systems are now offering those same type of resources for the modern self-storage customer.
Move in at Their Own Convenience
Airbnb and VRBO have experienced resounding success by allowing their customers to search their databases for the type of lodging they want, place their reservations, and get all the information they need for their stay—including access codes or digital room keys—all without ever having to interact with a live person. This same level of convenience is available for self storage as well.
By using an advanced Smart Entry system that seamlessly integrates with your property management software, you can provide the ultimate onboarding experience. Customers can shop for the unit they need on your storage facility's website, pay for the unit, and complete the entire onboarding process in minutes. A digital key is then automatically sent to their smartphone, allowing the tenant to immediately move their belongings into their new unit, even if it's after hours or the site manager is busy assisting another customer.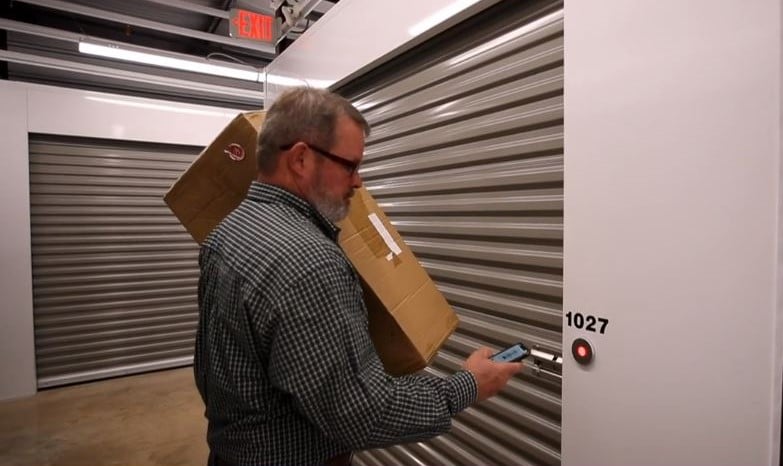 24/7 Rentals and Facility Access
Customers have grown to expect convenience and the ability to get what they need when they need it. Having to wait until normal business hours to gain access to their belongings is a major inconvenience that simply won't satisfy many of today's self-storage customers.
More and more industries are using automation to provide customers with round-the-clock service, so why should self-storage be any different? Industry leading smart entry systems provide tenants with a digital key that grants them access to your facility's gate, entry points, elevators, and their individual unit so they can access their belongings whenever it's most convenient for them. Having the ability to offer extended or even 24/7 access can be critical for busy customers who need to get to their unit after hours.
Best of all, offering online automated rentals and move-ins allows you to capture that additional business you would otherwise miss out on—giving you a serious competitive advantage over those still using traditional access systems and locking methods.
Digital Key Sharing
There are several mobile payment app services that have gained popularity in recent years. People are increasingly turning to smartphone apps like Zelle, Venmo and Cash App to quickly and easily send funds to their friends, family, or even pay for products and services.
Wouldn't it be great if you could share the key to your storage unit the same way? Advanced Smart Entry systems let you do just that with digital key sharing!
For families that have storage units, or even commercial businesses who need to grant multiple employees access to their unit, digital key sharing is the level of convenience that tenants not only appreciate, but come to rely on. Tenants no longer have to arrange to hand off keys to family members, movers, or employees when giving them access to their unit—not to mention worrying about someone making copies of those keys. With each digital key that is shared, tenants can track who has accessed their unit and when, and even revoke the key at any time if needed.
Everything in One Place
Automation technology is transforming the way people interact with self-storage facilities. Integrating your website and property management software with a Smart Entry system gives your customers the ability to do everything they need to from one convenient app on their smartphone.
Tenants can complete automated move-ins, e-sign documents, pay bills, and obtain gate and unit access–all from the palm of their hand. The hard truth is that traditional access systems will soon be considered outdated to the ever-growing market of today's tech savvy customer.
Unmatched Security
Storage unit break-ins are an all-too-common occurrence. In most cases, tenants don't find out about the incident until days, weeks, or even months later when visiting their unit again. Security cameras might capture some footage of the thieves, but by that time, your belongings are long gone and the security footage is usually low quality, making it difficult to identify the perpetrator.
Smart Entry systems have now beefed up security monitoring capabilities to the point that it's virtually impossible for a break-in to go undetected. In addition to keeping a detailed log of exactly who entered each unit, and at what time, there are many other ways these systems successfully thwart criminal activity that traditional locking systems simply can't match.
With advanced systems that include interior smart locks, thieves are unable to break in using a pair of bolt cutters or lock tampering, as with a traditional exterior lock. The addition of motion sensors inside each unit also detects movement and allows you to immediately pick up on theft and track down who was inside your facility during that time, whether or not they accessed their unit, or any unusual activity upon entering the facility.
Having this added level of security is a deciding factor for those self-storage customers who are serious about protecting their goods and stopping break-ins before it's too late.