When you think of a roll-up door, what's the first thing that comes to mind?
The model, probably.
The Size.
Slat versus rolling.
The most prominent feature that's probably sticking out in your mental image? Color!
Choosing the color of your doors is one of the biggest decisions you'll make while outfitting your project, whether it's a pole barn, warehouse, or any other application. Should you go classic and low-key? Is bright the best way to proceed? The options are basically endless.
With all of that in mind, let's take a look at some of the projects that have caught our eye this past year! While the specific categories of these projects may vary all over the place, there's no disputing the fact that each of them carved out their own place at the table for creativity.
#1: Tall, Dark and Dignified Green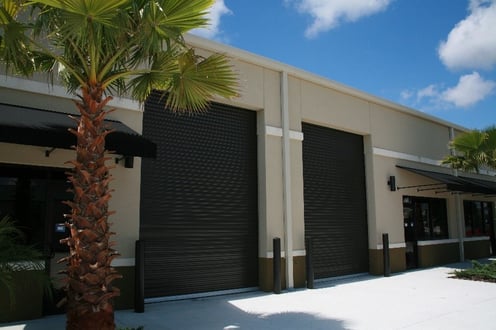 This warehouse is clearly living its best life by the beach! Having residential palm trees outside the window never hurt anyone's case, but let's focus in on the doors themselves. Picking a darker tone for this application gives the doors a strong and corporate sensibility for this warehouse located in an office park. The dark green is also a great companion to the tan and dark brown colors on the surrounding exterior walls, with some accenting white trim for a pop. One of the advantages of darker doors (especially in a warehouse situation) is the way dirt and scuff marks aren't easily visible at first glance, which can be especially helpful if they're in a high-traffic situation.
#2: The Red Barn Classic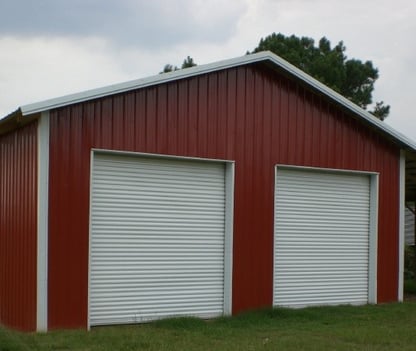 This pole barn is a great example of harnessing the power of simplicity. While plain white doors might not be the most exciting color option for every project, you can see here that they complement the bold red that's become a mainstay of most barns. The white also gives a clean, sleek look to the doors themselves. You can't go wrong with a time-tested classic!
#3: Urban Orange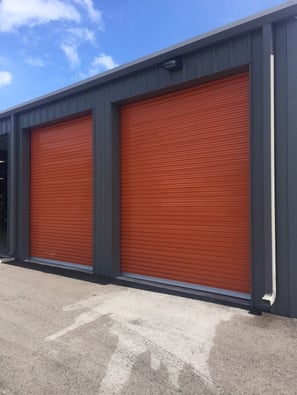 This freight terminal wasn't afraid to take a chance with bold colors, and their fearlessness definitely paid off with the finished product! These customers chose a bright orange on the doors with a stark contrast coming from the walls. The effect is simultaneously edgy, but not off-putting, creating a great way to spice up what would be an ordinary loading dock area.
#4: Better Off Red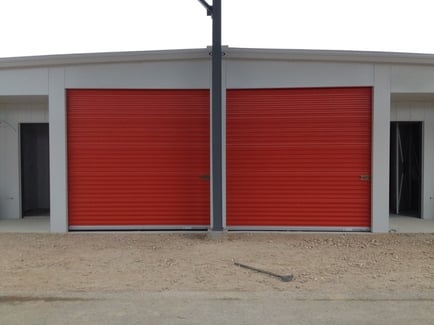 Another popular choice for those feeling bold is this strong shade of red! Much like the previous pole barn example, these Janus customers decided on an inverted color scheme of red and white for a classic twist on an old favorite. One of the great benefits from picking bright color schemes for your doors is the eye-catching factor; with red being the longest wavelength on the spectrum, it's impossible for passerby not to take a glance at your door lineup!
No matter what color grabs your attention, the most important factor in your decision should be the quality of the paint itself. Choosing the cheapest available option is probably only going to end in heartbreak, because the old saying is true: you get what you pay for (especially with exterior paint being subjected to the elements at all times). With the 40 year Becker's limited paint warranty on all Janus doors, these customers can also rest easy knowing their door colors won't be fading anytime soon!