Commercial Door Weather Stripping
It's no secret that air leaks are common around moving building components such as operable doors and windows. With metal exterior doors, weather stripping is a fast, efficient, and cost effective solution for closing these spaces and preventing any transmission of elements between your building and the outside. No matter which mode of weather stripping you choose for your commercial roll-up doors, they all share three main goals.
3 MAIN GOALS OF WEATHER STRIPPING BUILDING COMPONENTS:
1. KEEPING ENVIRONMENTAL ELEMENTS OUT OF YOUR BUILDING. Some environmental elements that weather stripping is known for protecting against are rain, water, dust, and dirt, but the list goes on. The goal of preventing these elements is to protect your building from things that could degrade or harm your valuable assets.
2. REDUCING ENERGY. To keep your building warm in the winter and cool in the summer, it's critical for climate controlled buildings to invest in insulated doors with added weather stripping options. You don't want your HVAC systems to be doing extra work because of the exposed air pockets around your moving overhead door, costing you more money.
3. KEEPING PESTS OUT. While this is not always the first go-to reason for weather stripping, it's added bonus that pests are unable to crawl into your building from the small gaps in your overhead door.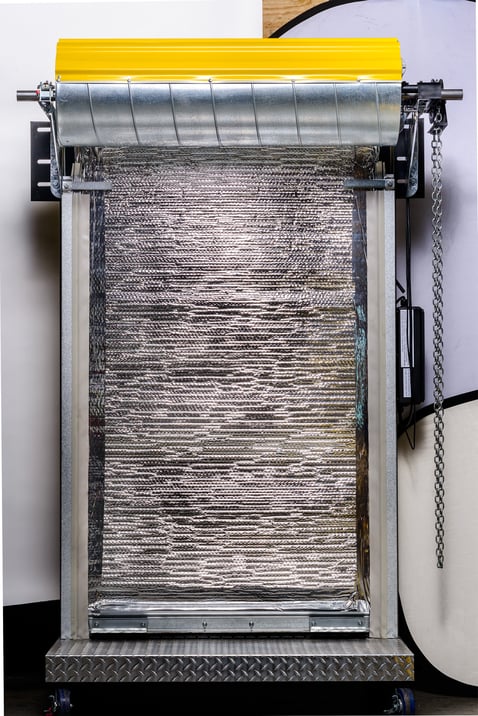 With an added layer of protection to your metal exterior door, you can keep your commercial building operating most efficiently with cost savings. Need help assessing the energy efficiency in your commercial building? With an Energy Audit Report, you can learn customized opportunities to reduce your operational expenses and increase your profits. After all, each building is different and contains new opportunities for reducing energy. With all differences aside, weather stripping your insulated roll-up doors are a surefire way to reduce your energy consumption and increase your profits. .
EXTERIOR DOOR WEATHER STRIPPING TYPES:
BRUSH WEATHER STRIPPING


Brush weather stripping is the top-level solution for weather proofing your commercial roll-up door. The brush delivers more flexibility than a strip of vinyl, allowing a complete seal that does a superior job in protecting from air, weather, dust, dirt, and even critters. A brush weather stripping is also a more durable and sustainable solution, providing better resistance against wear and deterioration over time.



TOP-TIPS FROM THE U.S. DEPARTMENT OF ENERGY:
For optimal performance, weather stripping should be applied to clean, dry surfaces.

Apply snugly, the material should compress when the door is shut.

Measure the area to be weather-stripped twice before making the cut.

Weather strip the entire door jamb.

Choose the appropriate door sweeps and threshold for the bottom of doors.
With the variety of modes and provided tips for weather stripping your metal exterior doors, you can select the best product for your commercial application, ensuring your door will contribute to operational efficiency and cost effective solutions.