The
Ultimate Guide

on Rolling Steel Doors

Choosing the right closure for your building's needs is a big decision! You want a high-quality door that's built to last and easy to install, operate and maintain - That's where Janus International comes in. With our newly expanded product offering to include a full-line of rolling steel doors, produced by ASTA AMERICA by Janus International, we deliver every product series, model size and option in the book!

In this blog, we're going to detail our full-line of rolling steel doors and more specifically, expose 3 of it's most popular segments, including:
How rolling steel doors can be customized to fit virtually any commercial industrial application, building code or design need.

Key benefits to using rolling steel doors as your building's closure.
What is a Rolling Steel Door?
A rolling steel door is a coiling door that's typically used in commercial and industrial applications - from warehouses and loading docks to freight terminals and distribution centers. They're constructed of galvanized steel slats that interlock to form one strong and continuous curtain. These interlocking steel slats increase the durability of the door's curtain with enhanced strength and protection.
A full-line of rolling steel doors includes a wide variety of models, ranging from service doors, insulated service doors, fire rated doors, fire rated shutters, counter shutters and rolling grilles. Each model in the product line encompasses structural integrity and durability.
Available in a wide variety of models, sizes and colors, rolling steel doors can be customized to fit virtually any commercial or industrial application, building code or design need. We've listed some of these customization opportunities below.
Customizable to Fit Specific Applications, Building Codes and Exact Design Needs
SIZES | Rolling steel doors are available in a wide variety of sizes and can even be manufactured to close oversized opening. You can find rolling steel doors in sizes up to 40' wide and 30' high.
POWDER COATING | Applied as a dry powder and baked onto the door's surface to form a thick and even layer, powder coating provides a durable finish that will keep your door's surface looking fresh for years to come. You can wave goodbye to scratching, chipping, chalking and fading, powder coated finishes are known for combatting the wear and tear associated with heavy-duty, high-cycle applications.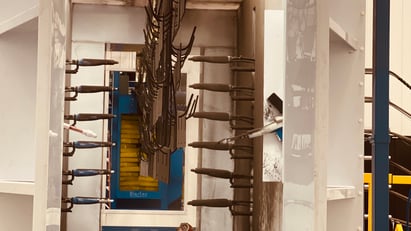 Not only does powder coating add a thick and flexible layer of protection to your door's surface, but with a new state-of-the-art powder coating line, we can produce rolling steel doors in virtually any color!
To view the rolling steel door color chart, CLICK HERE>>>
INSULATION | A rolling steel door's curtain is comprised of steel slats, creating the opportunity for polyurethane insulation. Also known as foam-in-place (FIP) insulation, polyurethane is sprayed into the steel slat where it then expands to fill the entire void with insulation. This eliminates air pockets and is much more effective than polystyrene of the same thickness, creating a better solution for thermal efficiency in climate controlled applications.
Key Benefits to using Rolling Steel Doors as Your Building's Closure
SPACE SAVING | Rolling steel doors share many competitive advantages as commercial sheet doors because of their basic design and construction. For example, they free up significant ceiling space which allows you to enhance lighting, HVAC components and even free up those emergency fire sprinklers.
VIRTUALLY MAINTENANCE FREE | Rolling steel doors are easy to maintain, as many parts are pre-assembled and enclosed inside of the door's barrel assembly. No more greasing springs and performing tedious and daunting tasks to maintain your overhead door!
For more tips and tricks on door maintenance, CLICK HERE>>>
EXTENDED SERVICE CUT-OUTS | Service cut-outs are exactly as they sound, this is an easily removable portion of the door's guide that allows you to service your rolling steel door quickly and easily. With extended service cut-outs up to 30" long, you can maintain your rolling steel door easier than ever before!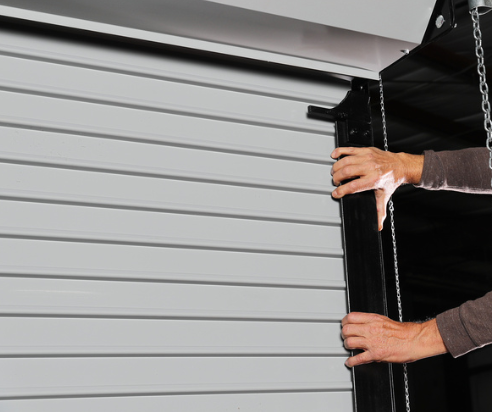 SAFETY & PROTECTION | The structural integrity of rolling steel doors makes them a force to be reckoned with. When required by code, rolling steel doors can even be manufactured for stringent wind-load ratings, impact ratings and fire ratings!
As you can see, a full-line of rolling steel doors comes with many working parts. Stay tuned for more blogs on rolling steel doors, where you'll learn about their features and competitive advantages to take your next commercial industrial project to the next level.