Reach Your Self-Storage Facility's Full Potential
Two years ago I bought my first home, which happened to be built in 1901. While its historic design has good bones, it's been a real "fixer upper". From installing a new roof to refinishing hardwood floors, we've tackled one project after another. While upgrading our home has been rewarding, it's felt like a never ending project because things break, carpets get ruined and decor goes out of style. Much like my historic home, the self-storage industry has aged. While your facility may have good bones too, there's restoration that needs to take place to attract more tenants, increase revenue and restore your facility to its former glory.
3 Ways to Restore Your Outdated Facility and Increase Revenue:
1. Replace your storage unit doors
2. Optimize your unit mix and idle land
3. Add a more robust technological security solution

Replace your storage unit doors

Are the unit doors at your facility getting old or worn out? Whether they're hard to open or their appearance has seen better days, replacing your unit doors could enhance your curb appeal and attract more tenants. We all know it's common to see wear and tear on roll-up doors after years of operation and exposure to environmental elements, but when paint starts to chip, chalk and fade, it can deter tenants from renting at your facility. While you may think an extra layer of paint can do the trick, we've learned that covering up the problem isn't a long-term solution. In fact, it can create more headaches for you down the road. A few months go by and your doors start cracking again, creating a never ending cycle of adding paint and weight to your door's curtain, which breaks it down over time. The best way to save time, money and frustration while restoring your aging facility is by getting ahead of the problem and replacing your outdated storage unit doors.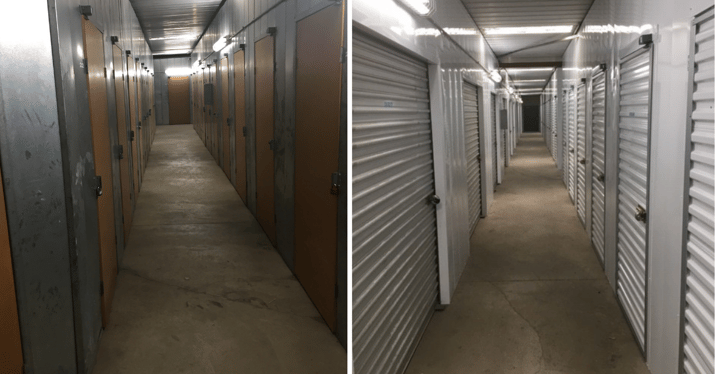 Not only can worn out doors be a real eye sore and deter tenants from renting at your facility, but they're a safety hazard too. As a self-storage owner, you have an ethical duty to deliver a safe door and experience to your tenants. When unit doors become heavy or hard to open and close, they can hurt tenants and cause damage to their property. That's when you need to install easy-to-operate doors at your facility, such as roll-up doors designed with a ratchet tensioning device and factory lubricated springs to reduce maintenance and increase sustainability. Once you begin restoring your outdated facility, replacing doors and enhancing your curb appeal, you can attract more tenants, increase rental rates and bring in more revenue.

Are you interested in door replacements but concerned about the down time? With the door replacement program at Janus, we can replace up to 25 doors in under 24 hours! That's very little downtime for some major rewards. Learn more here >>
Optimize your unit mix and idle land
Do you have an unused corner lot, underutilized property or sloping land that can't house permanent construction? It may be time to consider adding portable storage units to your facility. Portable storage units are a quick value-add solution to either your existing self-storage facility or own their own. These units can be constructed from the same durable components as traditional units, blending in seamlessly to existing facilities and eliminating problems like rusting, leakage issues and oil canning that are so common with flimsy portable containers.
Portable storage units are a go-to solution for many facilities because they're a fast way to increase revenue, their drive-up convenience can escalate rental rates and they can go where most ground-up construction can't. Because they're classified as equipment, you can often bypass those lengthy permitting and zoning process, and under the tax code revision, these particular same storage solutions are generally eligible for 100% deduction after just one year.
Add a more robust technological security solution
With more and more tenants evaluating the security measures around self-storage facilities - old school padlocks and minimal security measures are no longer cutting it. You need more than a simple security camera and padlock to keep your tenants and their belongings safe, you need a smart entry system and smart locks on every unit door.
A smart entry system is a total access control system that allows your tenants to easily access your facility (and their unit) from a smart device. No more granting entry access to tenants with forgotten keys and gate codes - they can do it all from the palm of their hand. With Tesla technology inside every unit controller and electronic smart locks and motion sensors inside every unit door, this robust security solution is changing the game for site security while making your tenant's lives easier.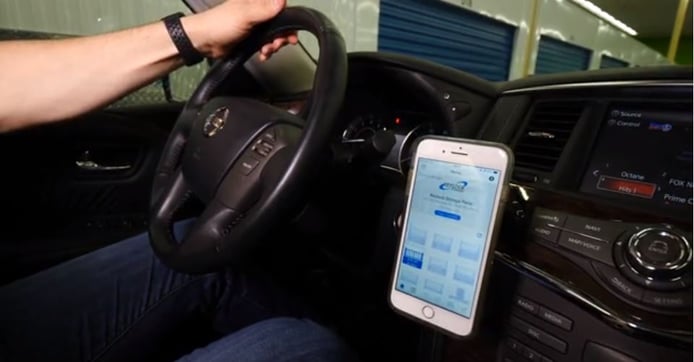 Another perk to Nokē Smart Entry System is digital key sharing, where tenants can go into their mobile app and grant temporary access to anyone who may need to get into their unit. This digital key can be revoked at any time, and an automatic activity log keeps track of exactly when the unit was accessed during the key sharing time frame.
Enhancing your site's security with a smart entry system allows operators to manage their facilities easier (and safer) than ever before, while attracting tenants who are concerned about their safety and the security of their belongings. With a robust security system in place at your facility, you can charge higher rental rates and generate more revenue for your self-storage facility than ever before.