Should You Be Charging Higher Rental Rates?
The self-storage industry is aging, it's no secret. We all see the outdated self-storage facilities when driving down the road that look faded, outdated and downright unsafe. These facilities are uninviting, and don't have a lot to offer tenants when it comes to security or convenience. While there's been an increase in facilities modernizing their approach to self-storage, there still remains an abundance of outdated facilities neglecting maintenance and in need of some major TLC. Sure, some of these facilities may be rented at maximum capacity because of the high demand for self-storage, but odds are they aren't bringing in nearly as much revenue as they could (or should) be. In fact, a 100% occupancy rate could actually be hurting your business, because it leaves you zero room to raise rents or create inventory. Instead, strive for an 80-85% rental capacity so you can continue raising rental rates and driving revenue at your self-storage facility.
Raising rental rates is imperative for your self-storage facility because it creates property value and increases revenue. That's why we're detailing how you can generate more rental revenue after replacing your old unit doors with new solutions. We've learned, tenants are willing to pay higher rental rates for the following three things:

Aesthetics

Ease of Use

Security
What do your unit doors say about your self-storage facility?
While we all grow up learning not to judge a book by its cover, it's time to re-train our brains way of thinking when it comes to the appearance of self-storage facilities. A site's curb appeal plays a pivotal role in its overall success, and the rental rates it's able to charge tenants. Chances are, if your unit doors are outdated, ugly or hard to use, tenants aren't going to want to rent at your facility. And if they do, it's likely because your rental rates are far too low. By investing in brand-new unit doors for your self-storage facility, you can outmatch your competition, charge higher rental rates per tenant, and spike your return on investment (ROI).
When it comes to aesthetics, the biggest problem area for steel roll-up doors is the paint on its curtain. It's common to see wear and tear on these curtains after years of operation and exposure to environmental elements. Look for chipping, chalking or fading on your door's curtain surface. If these issues are present, it's likely time to consider replacing your unit doors with brand-new roll-up doors. If you want a quality door that's designed to protect itself from damage, look for one that's coated in a durable finish and backed by an impressive paint warranty. By investing in doors designed to resist wear and tear, you can say goodbye to issues like chalking, chipping and fading that are so common with old doors.
Not only do old doors hurt your facility's score aesthetically, but they can quickly become a safety hazard too. When your unit doors get heavy or hard to operate, they can physically hurt your tenants and cause damage to their property. Therefore, replacing your out dated doors and modernizing your facility can improve your property from a risk-management perspective as well, and potentially lower your insurance costs. For more information, check out this ISS Blog on how improving your old property could also improve your insurance premiums.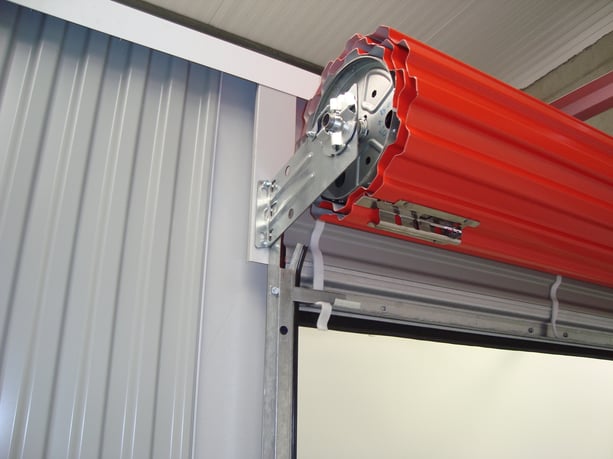 When replacing your outdated unit doors, consider installing ones that are easy to operate and virtually maintenance free. Here are a few things to look for:
Springs that are enclosed in a tube for life-time protection, and coated with grease during production to prevent rust and corrosion.

A ratchet tensioning device that allows a simplified method of spring tensioning. This allows you to simultaneously fine-tune all springs at once, and it doesn't require any pins to hold the tension to the spring.

Dead axle and torque tube assembly. The tube housing will protect the springs and strengthen the axle. This eliminates axle push and shift that live axle would create, and allows for springs to be tune all at the same time.
Replacing your unit doors doesn't have to be a long and drawn out process either. With the Door Replacement Program at Janus, we can have an experienced crew install up to 25 doors in less than 24 hours! That's very little down time for some major rewards.
Site Security is your #1 Marketing Tool
Out-dated doors and self-storage break-ins often go hand-in-hand with one another. When you have old doors at your self-storage facility, you likely don't have good site security either. By investing in new doors constructed of sturdy galvanized steel, you can fight against self-storage break-ins and better protect your facility. After all, no tenants wants to rent from a run-down sketchy facility, making site security your number one marketing tool. With a more robust security system in place, you'll quickly see that tenants are willing to pay extra for better protection, allowing you to charge higher rental rates and increase your revenue.

Want to take your site's security to the next level? The best facilities around are modernizing, and incorporating a smart entry system that allows complete access control while taking advantage of the most innovative features in the industry. Smart phone access, digital key sharing and management, and fully automated move-ins, to name just a few. This customized approach to site security will change the way you think about protecting your facility, while making the lives of tenants easier and more convenient than ever before.