The Janus Education and Technology Workshop Will Be Held August 11 – 13, 2019 at Torrey Pines in Southern California.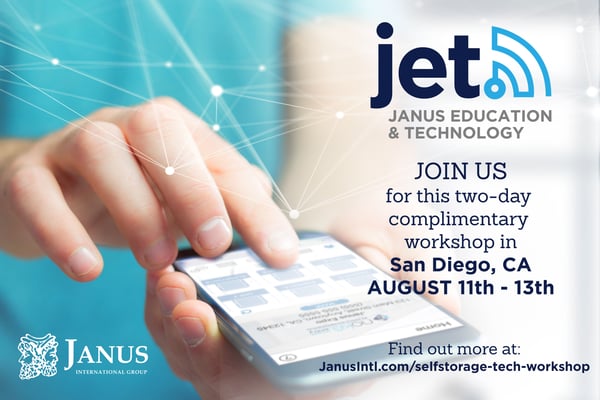 Temple, GA June 10, 2019– Janus International, the leading global manufacturer and supplier of turn-key building solutions and smart entry technology for the self-storage industry, today announced their upcoming Education and Technology (JET) workshop that will take place from August 11 – 13 at the Hilton La Jolla Torrey Pines, located in the beautiful community of Northern San Diego, California.
This unique educational event will highlight today's most relevant self-storage industry topics, including:
· Developing Modern Self-Storage
· Conversions
· Technology and Automation
· Marketing and Branding
· Renovations, and more
Attendees can expect to hear straight from the experts. Lineup of speakers includes:
· Josh Boyd, OnGuard Self Storage
· Dave King, Wentworth Properties
· John Mannes, Pinnacle Self Storage
· Travis Morrow, National Self Storage
· AJ Osborne, Keylock Storage
· Terry Bagley, Smart Entry & Facility Automation at Janus International
· Troy Bix, R3 Division at Janus International
· Roc Hughes, R3 Division at Janus International
· And many more!
Troy Bix, President of the R3 (Restore, Rebuild, Replace) Division at Janus International, said of the workshop announcement:
"To us, there's nothing better than providing quality self-storage industry education to owners and operators, no matter where they are on their career paths. This JET Workshop will be a wonderful opportunity for folks to really learn about some of the most popular topics in our industry, and time to sit down and ask questions with our expert speakers."
To register for JET San Diego, click the button below:
###
Janus International (JanusIntl.com) is the leading global manufacturer and supplier of turn-key self-storage building solutions including: roll up and swing doors, hallway systems, and premium relocatable storage systems. Janus also has a rapidly growing technology division designed to help operators automate operations, improve security, and create a more convenient customer experience. Janus offers a full suite of smart entry and facility automation products, including Bluetooth smart locks, mobile entry and monitoring apps, and smart keypads. The Janus team operates out of eight locations in the US and three locations in Europe and is headquartered in Temple, GA.
Media Contact(s):
Christine DeBord
Janus International
Phone: 770-462-0659
Email: marketing@janusintl.com Website: JanusIntl.com