How to Insulate a Roll up Door
Unlike a rolling steel door that's able to hold insulation between it's front and back slats, how do you insulate a single, thin sheet of corrugated steel on a roll-up door? What keeps the insulation in place?
The answer you're looking for is polyethylene (PE) insulation. Polyethylene insulation is a versatile and sustainable solution for roll up doors. It's a foil backed, dual layer of heavy-duty air-bubble insulation. How does it stay on? It's secured into place with a strong adhesive, and joined by a Mylar film to increase it's integrity for thermal efficiency.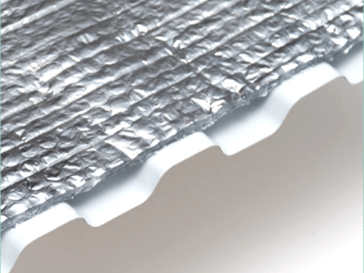 What are the Benefits?
Insulating your roll up door is a popular enhancement for virtually any roll up door. Whether your commercial roll up door is on a shed that houses antiques, a hobby shop where you work on restoring that old car, or an industrial facility that's houses a lot of machinery, products, and people. Insulation is versatile because of the many advantages it brings to any project, check out some of the advantages in more detail below.
Advantages for any project:
Climate Control
Energy Efficiency/Cost Savings
Product Protection
Noise Reduction
Climate Control
Insulation creates a greater environmental separation between the inside of your building and the outside environment which helps maintain internal temperatures. Think of a Styrofoam cup... no matter what drink you have, this cup serves as an insulator and will work to keep your sweet tea cold or your black coffee hot... Polyethylene insulation works as an insulator too, maintaining those internal temperatures, helping keep your building warm in the winter and cool in the summer.
Energy Efficiency/Cost Savings
When you pair insulated roll up doors with climate controlled environments, you can start saving energy and money immediately! The insulation helps to regulate and maintain that inside temperature which decreases the amount of work on your HVAC system. When your HVAC system has some help, you'll see lower utility bills as the direct result of less electricity usage- That's literately money in your pocket!
What's the best way to measure thermal performance? U-factor. U-factor considers the performance of the full, assembled door and let's you know exactly what you're going to be getting. Want to learn more on why U-factors are superior to R-values? Check out DASMA's guidline here.
Product Protection
Heat, humidity, and moisture can pose a great threat to un-insulated buildings, especially if those buildings are housing valuables; such as, vehicles, boxes, or perishables. When the inside of your building isn't protected from severe outside temperatures, environmental conditions can cause irreversible damage to your valuables. Hot and cold weather go hand-in-hand with molding, shrinking, melting, and even freezing- all things you want your valuables to steer clear from!
In addition to protecting your assets from hazards like excess moisture and irregular temperatures, insulation also increases the rigidity and durability of your roll up door. With a tougher curtain, your roll up door is better fitted to resist damage, helping you save money over time with reduced repair costs.
Noise Reduction
We all know it can get loud in commercial/Industrial buildings! With heavy machinery, lots of people, or even production- there's almost no getting around it; however, polyethylene insulation can drastically help noise pollution throughout your building with it's Sound Transmission Class (STC) rating.
What's an STC rating? This is a numerical rating of a material/assembly's ability to resist airborne sound transfer. The better the insulation, the higher the STC rating and the less noise traveling throughout your commercial building.
How can you enhance noise reduction and thermal efficiency? Weather stripping and draft stops can be added to your door to seal off the remainder nooks and crannys around your roll up door and it's assembly. By covering gaps and air leaks, you can help stop those noisy sound waves from entering your space!
Time and time again, insulated roll up doors have proven to be worth their investment. By adding protection to you building, creating a safer working environment, and significantly increasing your returns, insulated roll up doors can benefit any commercial project, no matter the size.
Need More Information? Contact us or download our free Infographic displaying additional advantages and benefits of insulated roll-up doors by clicking the image or button below.