While some things age well like a fine red wine we've learned in the self-storage industry that not everything gets better with time. In fact, there's an abundance of outdated facilities that have aged more like spoiled milk than anything else. Whether those facilities are lacking access control, modern security systems or they've never replaced their unit doors –It's time to consider renovating these self-storage facilities to retain customers and attract new tenants while remaining relevant in an increasingly competitive industry. That's why we're discussing the top upgrades to consider during a self-storage renovation, including what upgrades to consider and why they're pivotal to your business' success.
Upgrades to Consider
Did you know that facilities of all ages benefit from renovations and upgrades? Whether they have broken doors, chalking paint, aged roofs or outdated security systems, any facility can benefit from providing a better customer experience. When evaluating your self-storage property to determine what needs to be upgraded or replaced during your renovation project, there shouldn't be anything left off the table. It's always a smart idea to bring in a self-storage veteran or renovation expert that can help you assess your facility from the ground up. Make sure you're evaluating the aesthetics, functionality and security of your facility. This will help you decide which components and features are most important to upgrade or replace during the renovation process.
Common areas in need of renovation:
Doors

Security Systems

Roofs

Lighting

Parking Lots

ADA Compliance

Office
Doors
While you may think your unit door's appearance isn't a big deal, tenants disagree and it's time to change the way we're thinking about a site's curb appeal. If your doors are chipping, chalking or fading, it's likely time to consider replacing them with brand new roll-up doors. If you don't, you could have a difficult time attracting and retaining tenants. Not to mention, old doors are a huge safety hazard. When doors get hard to operate, they could fall on and hurt a tenant or damage their property – making it crucial to keep your doors up-to-date and well maintained at all times. By replacing old unit doors and revitalizing your self-storage facility, you can improve your property from a risk-management perspective and potentially lower your insurance costs.
Why Door Replacement?
When replacing unit doors, consider installing brand new roll-up doors that are easy to operate, virtually maintenance free and customizable to meet your exact needs. Look for dead axle roll-up doors, designed with enclosed factory lubricated springs to reduce maintenance and lower labor expenses while prolonging the life of your door. This design works to protect your unit door from harmful environmental elements, allowing you to get more years out of your investment.
Security Systems
As a self-storage owner or investor, you have a moral obligation to the safety and security of your tenants. This makes modernizing your security systems a must – old school camera's and sub-par security measures are no longer cutting it. By implementing a smart entry system that uses Bluetooth electronic smart locks and cloud based access control, you can optimize your site's security while making life easier for the owner, operator and tenant than ever before. Tenants can access these facilities via smart phone or Bluetooth key fob, and the owner operator can automate processes like move-ins, lock checks and even overlocking processes.
Roofs
An outdated roof can allow leaks into your building and potentially damage your tenant's property, making it pretty important to replace your roof when it starts showing wear. Despite what you may think, you no longer have to stop operations to perform renovations such as complete roof replacements. With retrofit solutions, you can simplify the re-roofing process with little to no downtime for occupants.
Lighting
Having a well-lit facility will increase the safety around your property while helping tenants feel more comfortable during their visit. There are many different options for lighting these days that provide cost savings and better illumination.
Parking Lots
If you have potholes or cracks in your parking lot, it's time to consider re-paving. While you may think an asphalt patch could do the trick, it's not a long term solution. Making the same repairs over and over can get monotonous and costly. You should consider re-painting the striping in your parking lot when paint starts to fade or wear away.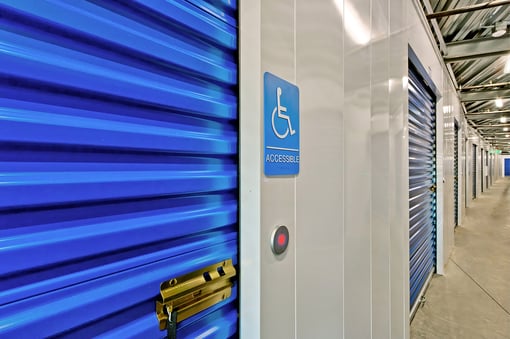 ADA Compliance
It's important to make sure your self-storage facility is in compliance with the American with Disabilities Act (ADA), which prohibits private entities from discriminating against individuals. To learn more about these requirements, and what your facility needs, click here.
Office
If your facility's office shows its age and is still equipped with original signage and retail items, it may be time to consider a face-lift. After all, this could be one of the first interactions a tenant has with your facility. Consider counter tops, signage, kiosks, security displays and flooring to modernize your aging facility.
Why Renovate?
The upside to a complete self-storage renovation is more revenue, increased property value and better safety. When making your facility an overall safer and more efficient environment, you'll even be eligible for substantial cost segregation and insurance discounts to help you throughout the process. And at the end of the day, the benefits of a complete renovation far outweigh any cost. Don't leave money on the table with old, and frankly dangerous facilities.