Making Manager's Lives Easier, ONE

Smart

Lock at a Time
In today's world, the demand for automated rentals is at it's all time high. This past year has been challenging for many industries in maintaining a strong business while creating a "contactless" environment for their employees and customers. Although we have hope that the end of today's pandemic is in the very near future, there's certainly no guarantee. Nevertheless, customers have now become so used to a contactless environment and the simplicity of taking care of their daily responsibilities that we'll never truly go back to the way things were before... and that's okay! Businesses aren't bouncing back, they're bouncing forward and here's why.
While the technology has been around for a while, more and more businesses and customers are now taking advantage of (and even expect) the ability to take on their daily tasks all from their smart devices. The way we work, eat, and shop is now even more convenient than ever before, and as for the self storage industry, automated rentals have become the new "norm".
In this blog we'll talk about how technology has improved the tenant onboarding experience, how smart locks automate manual processes like overlocking and lock checks, and the benefits of not only automating your self storage facility but also your individual units.
The Best Smart Lock to Use at Your Facility
The most advanced ALL-IN-ONE electronic external smart lock is making big waves through the self storage industry. These smart locks fit seamlessly on swing doors and roll-up doors to provide the highest unit security while also making managers lives easier. Check out some of the key benefits for self storage operators and tenants:
| | |
| --- | --- |
| Operator Benefits at a Glance | Tenant Benefits at a Glance |
| Easily retrofittable | Enter unit & view activity with smart phone |
| Secures all units (even vacant ones) | No gate codes or keys to forget |
| Door locks or hasps not needed | Digital key sharing and management |
| Automatic overlocking and release | Smart phone access app |
| Offer premium units | Fully automated move-ins |
| Multi-year battery life | |
| 24/7 live support | |
Improving the Customer Experience With Automated Rentals
Technology has truly made tenant onboarding a much faster and easier process for both tenants and site managers. Before kiosks and mobile apps, managers spent the majority of their time helping tenants rent a unit. With the technology that's available today, tenants can now complete the entire rental process on their own! It's crazy to think that with self serve kiosks, mobile devices, and online rental options, there are many facility owners that have yet to hop on board with the latest tech trends!
The tenant rental process occurs online from the facility's website or in store at a self service station. Once the rental is completed, a text message is sent to the tenant for verification and will include a link to download the custom branded mobile app. The tenant is then able to use the app to access all verified entry points within your facility and their unit all from their smart phone. If the tenant does not have a smart device, the site manager will send a six digit temporary pass code and sync a key fob to access their unit.
Tenants can still ask a manager for assistance if they'd rather complete the rental process the traditional way. However, during these times it's great having the option for a "contactless" rental experience and more customers than not are choosing this option when available. Not only does this provide customer convenience, it also allows site managers to handle other responsibilities while capturing more rentals.
Smart Locks Eliminate Time Consuming Tasks for Managers
We all know that a huge chunk of site manager's time is spent on tasks like lock checks, overlocking, and cutting locks. Now, managers are able to spend more time in the office focusing on customer service and less time dealing with these time consuming manual tasks.
Tenant hasn't paid their rent? Smart locks automate the overlock process if a tenant misses their payment. If payment isn't received by the due date, the unit is automatically overlocked and access to the facility and the tenant's unit is revoked. Once the tenant makes their payment, their access is automatically restored - all without the hassle of the manager having to physically put a lock on their unit and going back out to remove it.
Tired of doing manual lock checks? Site managers can now check this task off their list too! With smart locks on your storage units, lock checks are completed virtually and can quickly be seen within the portal, eliminating the need to physically go out to check each unit.
Cutting too many locks? Tenants often forget or lose their keys, ask managers to cut the lock off of their unit or worse try doing it themselves, which can cause serious damage to the door or potentially injuring themselves in the process. Now you can eliminate cutting locks all together. With smart locks, managers can unlock units virtually without having to worry about any liability, damage, or inconvenience.
Need to open the gate for tenants? If the manager is busy on site or if it's after hours and a tenant is having trouble accessing the gate, the site manager can open the gate virtually regardless of where they are. So instead of being glued to the office 24/7 or inconveniently making the tenant wait, this can be handled easily on the go.
Want the ability to upsell? With smart locks and automated rentals, managers can upsell their smart units at a premium rate. Tenants will pay more for better security, convenience, and higher quality. You can also include options for selecting insurance or other upgrades automatically during the rental process. With smart locks automating the entire rental and move-in process, you also have the ability to take your site partially or even completely virtual if you'd like.
Hi-Tech Security Features You Just Can't Ignore
Let's face it, site managers have a lot on their plate and having to keep an eagle eye out for strange activity doesn't make it any less stressful. It's okay, smart locks have you covered on this too!
With the industry leading smart lock, inside of every unit comes with a thermal motion sensor on the back of each lock. So if a fire starts inside of the unit, if someone attempted to break in, or even if a tenant was living inside of the unit, a notification will be sent to the manager alerting them of the issue.
Managers also have visibility into exactly who's on the property (and units) at any given time, allowing them to easily keep a closer eye on the property at all times - from anywhere in the world.
The Highest Rated App for Self Storage? You Bet!
This ALL-IN-ONE electronic smart lock speaks for itself! With the simplicity of fully automated move-ins, complete user-friendly experience, and convenient operations, it's no wonder tenants have rated this the #1 app for self storage. Other self storage tenant apps just don't compare.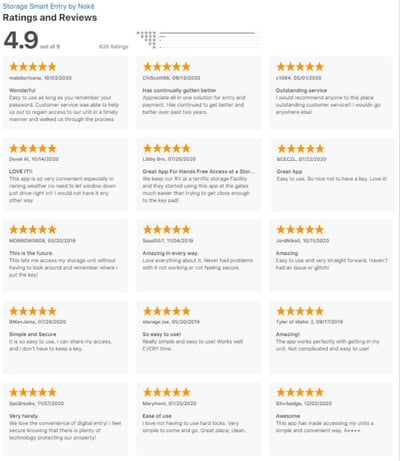 The Bottom Line
The year 2020 has dealt us a rough hand, but smart technology still remains undefeated in keeping our society functional during these uncertain times. Consumer behavior is changing and so should we. Instead of bouncing back, it's time to bounce forward into the new year to provide a more safe, contactless environment! So say good-bye to old technology and faulty access control systems, because the industry leading smart locks are here to stay.