How to Choose the Best Storage Unit Doors for Your Facility
The self storage doors at your facility might be the one thing that makes or breaks whether customers choose to do business with you or your competitor.
The unit doors at your facility are the primary items that customers handle on a regular basis. The perceived safety, security and value of the entire facility rests heavily on the look and operation of that storage door. How customers see these critical items will dictate an owner/operator's ability to rent that storage space as either a low cost provider or rent that space as the market leader at premium pricing levels.
If you're ready to purchase new doors for your facility, you might be wondering where to start. What should you look for to indicate quality? Where should you purchase your new doors?
What to Look for When Shopping for Storage Unit Doors:
Wind load requirements for your area
Ease of installation and maintenance
Durability
Paint application and warranty
Door warranty specifics
Cost and quality
Self Storage Doors for Your Area and Climate
The particular needs for storage unit doors will vary depending on where your facility is located and the kind of weather your doors expect to endure. If your facility is located in an area that sees high winds or hurricanes, you will need higher wind load doors to prevent damage. It's also a good idea to check for extra seals and accessories that can help prevent dust or sand from being blown into the unit.
[Check out these award winning doors - Voted ISS Best of Business for "Best Self Storage Doors" 10 years running]
Each of the door models we'll cover below are specifically designed and manufactured with durability, quick installation, and ease of maintenance in mind, backed by a 3 year warranty. The innovative rolling door designs incorporate a dead axle, disc wheels, enclosed pre-greased springs, and super durable, lead-free polyester paint coatings to eliminate traditional maintenance requirements, such as re-greasing springs, and extend the life your doors.
The patented tension device allows anyone to easily adjust the tension of both the left and right springs at the same time. This allows the same tension on both the right and left side of the door curtain which ensures that when a customer opens their unit, the door will roll up and down evenly.
The Door Models
Model 650 - If your storage facility is located in an area where high winds are not a concern, then this the perfect door for you. Made with 26 gauge full hard galvanized steel, pre-installed brackets and available in over 30 color options, backed by a 40 year limited paint warranty, this door is sure to last and can be installed in as little as 5 minutes.
Wind Load Rated Doors:
To protect your facility from the chaos Mother Nature may bring, your best line of defense is doors that are strong enough to withstand wind damage.
Model 750 - Certified Wind Load Rated door made with 26 gauge full hard galvanized steel, engineered to meet building codes in coastal regions, and have been lab tested for safety assurance. Minimizes the locking and reinforcement needed to strengthen the door to pass rigorous wind load testing, has fewer friction points and less additional weight resulting in a door that operates better and still yields greater strength. Available in over 30 color options, backed by a 40 year limited paint warranty.
Model 850 - Certified Wind Load Rated door specifically engineered to meet Miami-Dade County's strict codes with +46 PSF and -54 PSF. made with 24 gauge full hard galvanized steel, there's no question that these heavy duty doors will be serving your facility for decades with its superior design.
These wind load rated doors are certainly not afraid of what Mother Nature brings their way.
Use DASMA's wind-load calculator to help determine which design pressures meet your specified requirements.
Durability For the Long Run
In the past, storage unit doors were mainly used by individuals to temporarily store goods before or after moving or at certain times of the year. Now, companies are seeing the benefits of renting storage units to keep their materials and supplies instead of purchasing extra property and building new structures.
Storage units that are utilized by commercial tenants will experience much heavier usage than traditional tenants, which means you will need self storage doors that are built to withstand the test of time.
Spring failure and not keeping your springs properly greased are two of the most common issues facilities are faced with. When someone attempts to open the door and a spring is broken, it will be very difficult to do so. If someone is able to forcibly open the door, the entire curtain will simply "balloon" back into the unit, instead of rolling up around the axle assembly.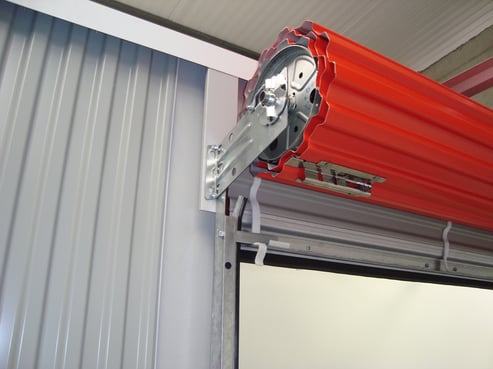 Purchasing storage doors that come standard with easy tension adjustment and pre-greased springs that are enclosed in a tube inside the barrel assembly, eliminates the need of having to reapply grease and provides for smoother operation, and longevity.
It's a good idea to have a solid understanding of the maintenance and warranty of your storage unit doors and how that plays into the long-term goals for your facility. If you have a facility that sees high occupancy year-round, purchasing a product that has a shorter warranty or that requires more maintenance might leave you with some high repair and replacement costs down the road.
Cost and Quality
The cost of a self storage door, like most things, will directly relate to the level of quality of the product you receive. Buying a cheaper door might save you some money initially, but you'll be opening the door for higher costs over time with more repairs and maintenance than is needed with better quality products.
It's equally important to understand what all is included in your quote for new storage doors. Don't be fooled by companies that just quote materials to show you a cheap price and leave the rest for you to figure out. Or, those who have cheaper products that require more maintenance and expense down the road. Look for a company that provides a design team, full set of shop drawings, full take-off review, materials list, installation, and a highly skilled and experienced Project Management team to oversee your project, from start to finish.
Doing your research on self storage doors is imperative to any new construction or door replacement project. Be sure to ask questions around the items covered above so you can ensure that you're choosing doors with the highest quality, lowest maintenance, and best service for your next self storage door purchase.