How safe are the doors at your self storage facility? Making sure your unit doors are safe is a huge deal to prevent it from becoming a liability for your business. If an elderly person or someone with disabilities has issues with their unit door and it falls on them, they could be seriously hurt or injured resulting in a huge law suit coming your way. Unfortunately, there are even some people that go around looking for faulty facilities so they can claim something off of it. Kind of annoying, but it doesn't change the fact that safety precautions should be taken to prevent potential claims either way. We've put together a few reasons why door replacements are necessary, what's required to meet ADA compliance for self storage, and the benefits to replacing outdated doors and keeping your facility safe!
Why Do Door Replacements Matter?
Maintenance is a key element to keeping your facility safe and functional. There are a lot of facilities today that are at least 20 years old and in serious need of repairs. Without taking the right safety measures, your facility is going to get someone hurt sooner or later. Some of these old facilities we're seeing have outdated, heavy doors that are hard for most tenants to open.
If your doors are starting to chip, crack, or flake, it would be a smart idea to go ahead and replace them. Some people think that adding an extra coat of paint will do the job, but this only adds more weight to the doors, forcing you to replace them anyways. Replacing your doors will leave you with a product that's lighter and easier for your tenants to open.
Randy Tipton from Universal Insurance Programs said she once had a claim that a door fell on an RV that had been taken out of a unit. The facility manager had brushed it off by saying "you either have to get a stick to keep it up or hold it up. Don't blame us if your RV got damaged." However, the liability for damages or injuries does actually fall back on the facility in cases like these.
We all know a self-storage door replacement comes at an expense, but did you know there are many rewards and tax saving strategies that you could be taking advantage of when doing so? Not only are you upgrading your facility to provide a safer and more aesthetically pleasing environment, you could also be putting more money back in your pocket. When you get rid of your old doors after replacing them, you can write off the remaining basis that hasn't already been depreciated.
Meeting ADA Requirements
The American with Disabilities Act (ADA) has been in place for many years, but has recently become a serious point of focus for the self-storage industry. In 2010, the ADA Accessibility Guidelines for Buildings and Facilities (ADAAG) included space accessibility "scoping requirements" that requires facilities to identify a specific number of units as accessible to be compliant. Let's take a closer look at the scoping and modification requirements:
Scoping Requirements:
5% if less than 200 units

10 units plus 2% if more than 200 units

Dispersed among classes of spaces

Example: a 180 unit facility must maintain 9 accessible units. A 320 unit facility must maintain 13 accessible units. These must be a mixture of sizes (5x10, 10x10, 10x15, etc.)
Required Modifications:
A pull must be installed on the door exterior no lower than 15″ and no higher than 48″

Pull must have a loop large enough for a fist to fit into

A nylon rope must be installed on the bottom bar which hangs 15″ – 48″ inches when door is open

Rope must also contain a loop large enough to fit a fist and replaces the traditional rope

An Accessibility plaque with Braille must be clearly displayed outside of unit

For exterior units, ramping is required which covers the entire width of the unit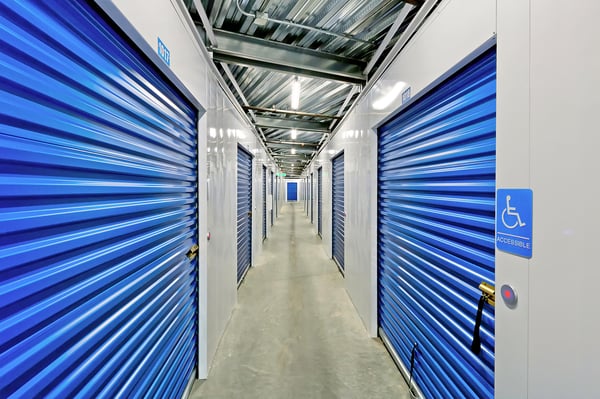 Unit doors must also be tensioned at 5lbs. maximum force – thankfully, there are doors on the market today that are specifically designed in keeping with ADA requirements, with no more than five pounds of maximum pressure required for opening and closing.
These requirements are all necessary to ensuring tenants with disabilities can easily access their units, prevent injuries, and to avoid being on the receiving end of a lawsuit.
Pro Tip: You can also provide your tenants with an easier route by allowing them to open and close their unit door by just the touch of a button. This solution eliminates the tenant from even having to touch the door all together!
Old, outdated, and heavy doors are a liability to your business and a risk for your tenants as well. By doing a door replacement, you're not only protecting your customers but you're also protecting your business.