What Do You Stand to Gain With a Self Storage
Door Replacement?
There comes a time when all self storage operators have to ask themselves, "What message are my self storage doors sending?" Look at it this way...if you had to choose between a one star or five star hotel, you would probably choose the hotel with better quality, right? The same applies to self storage. If a potential customer is looking for a place to store their valuables, they want the facility with the best quality to ensure their belongings are safe and won't get damaged.
Replacing old worn out doors can also help significantly reduce break-ins. In fact, prior to replacing their self storage doors, one customer reported 77 break-ins in under 6 months. After replacing the storage doors at their facility, they have since had zero reported break-ins.
So how do you go about restoring your storage facility to meet customer expectations and improve security, without breaking the bank? Keep reading to find out!
The Ugly Truth
When you slap another coat of paint on top of a roll-up door, it's like putting a band-aid on a bullet hole. That chalky substance that made you want to repaint your storage doors in the first place? It will come back! That fade? Get used to it because it's just a matter of time before you find yourself back in the same boat.
Fact: Did you know that paint can bubble and burn as it's being applied to a door on the job site?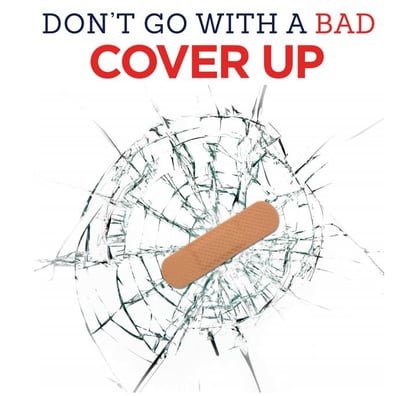 If you already have a problematic door, putting on an extra layer of paint only adds more weight. The reality is, when these self storage doors age, it's not just the facade that takes a hit - the mechanics of the door itself slowly break down as well. Paint decreases the workability of doors, leading to rough operation and potentially causing load balance issues and spring failure. Outdated storage doors are notorious for running off the tracks, not opening or closing properly, and can even plunge to the ground unexpectedly posing a threat to both your staff and tenants.
Without a doubt, the best option is to replace your doors to eliminate the cost and headache of something you'll just have to fix again in the very near future! Replacing your self storage doors means you're getting a clean slate and a brand new product that will last for many years to come. Not to mention a lighter product that's easier to operate...and avoiding potential liability issues.
Outmatch Your Competition
Part of being an excellent self storage owner/operator is taking constant stock of your competitor down the street. Everyone is trying to market themselves as the best and brightest facility, so how do you stack up? Having a store filled with brand new, well-functioning roll-up and swing doors puts you in a position to market your business as the best option for your new tenants. And since 80% of your facility is mostly doors, the easiest way to put a lasting shine on your facility is by doing a full door replacement.
Customers want to know their belongings will be safe when choosing a storage facility and the truth is, looks really do play a factor. If a customer gets the impression that a storage owner doesn't care about their own property, chances are they won't exactly get the warm fuzzies about storing their valuables at your facility.
Take a look at this review from Yelp (and there are many more where this came from):
"They should have a zero star rating because that is what they have earned. I have rented from this storage company for over 2 years. Last night I went to my storage unit to find all my beloved belongings destroyed and rats! Everything was covered in rat feces and urine. It has been 2 weeks since we last came. I called management to let them know and they came out and were super apologetic but did not offer to help us clean it out or any solutions."
Ouch! Can you imagine reading this type of review about your facility? Or, even think about new customers renting from this facility after seeing these types of reviews online? A review like this can haunt a self storage facility online for years, because these are the first results that pop up in search engines when you type their name in. That's just one of the reasons why it's so important to keep your facility in top shape for your tenants, and to always make a good impression!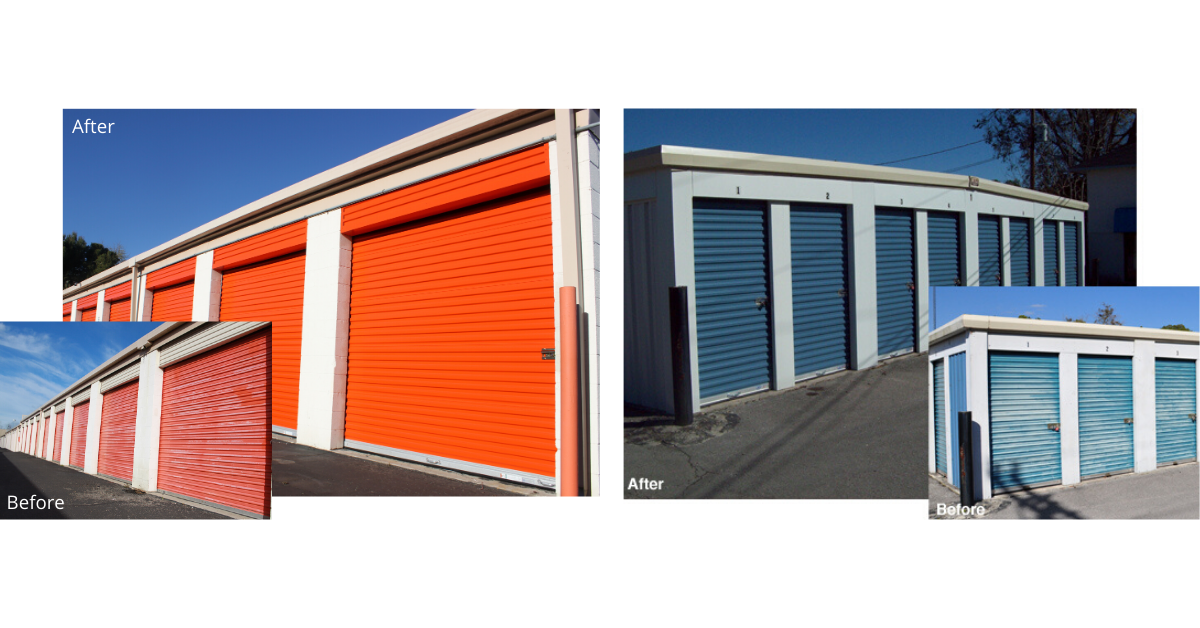 Beyond Looking Good [Let's Talk Numbers]
The average investment needed for a full, turnkey storage door replacement is approximately $550 per unit. On average, a renovated unit could generate a $5 a month rent increase, multiply that by 100 units and you've got $6,000 a year in new revenue; assume a cap rate of 6.5% ($6,000/6.5% = $92,307). Your return on investment could be met in as little as 3-6 months!
There's also additional savings to factor in: Up to 20% in insurance discounts, annual depreciation for net income offset, and reduced claims and maintenance fees, to name a few.
Now consider the cost of unearned income: One 10x10 unit at $50 per month equals $600 in annual lost income.
Take a look at this example:
Let's say a 500 unit, class B property with a 90% occupancy rate decides to undergo a full door replacement project. Before replacement, the income was $540,000; one year after replacing the doors, the income increased by 10% to a new total of $594,000. For operating expenses, the facility sees their annual cost drop from $189,000 to $184,000. That's because they're able to save 10% on their insurance, plus save 3% on repair and maintenance costs.
When it comes to net operating income (NOI), the facility in this example sees a significant jump from $351,000 to $410,000 in just one year! The overall value at a 6.5% cap rate also jumps from $5,400,000 to $6,307,692.31. This brings the net increase of value to a whopping $907,692.31. This type of bottom line increase raises a self storage facility to the leader of the pack where local competition is concerned.
Looking at these numbers, can you really afford not to do a door replacement?
CARES Act Tax Benefits
Generate a refund to renovate today from carryback of NOLs
Allows for a five year carryback of net operating losses arising in 2018, 2019, & 2020

The 5 year carryback rules require you to go back 5 years and roll forward from there if the loss is in excess of the carryback years income

Example: Sally Smith has income for the past 5 years, and a loss in 2019 generated from a cost segregation study as follows:

How can you get started with a Cost Segregation/CARES Act review
[Click Here to receive a no cost pre-analysis today]
Using Cost Segregation to save you money
Cost Segregation is a way for commercial property owners to accelerate their building's depreciation, reducing federal taxes and possibly getting a refund back in the current tax cycle. This allows parts of your building to be depreciated on a 5, 7 or 15 year schedule instead of depreciating the whole building at 27.5 or 39 years with the straight-line method.
When combining cost segregation with a self storage renovation, you could write off discarded building materials such as interior and exterior doors, interior partitions, hallway facades, metal framework, old lighting for LED retrofits and even parking lots, landscaping and signage. Cost segregation can give self-storage owners anywhere from $30,000 - $100,000 in income tax savings per million in building cost. These savings come from bonus depreciation, cost segregation, partial asset disposition, potential refunds and more. In addition, 100% bonus depreciation is available for purchased buildings and new construction projects with assets identified with a depreciable life of 20 years or less.
The Advantage of Added Security
Here's the thing about self storage security: it goes far beyond traditional lock and keys, cameras, and keypads at the gate these days. With the industry leading smart entry systems available today, facilities can now offer a better customer experience to their tenants, while securing their facilities like never before.
These advanced systems provide fully automated move-ins in a matter of minutes. Customers can select their unit, insurance options, pay and sign their lease, and receive an automated text with their digital key, all from the palm of their hand using their smartphone. With instant access to gates, man doors, elevators, and their individual unit, there's no more lost keys and forgotten gate codes to deal with!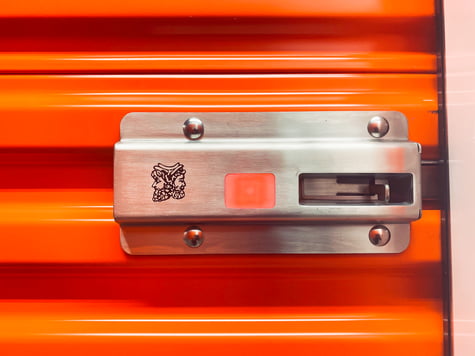 So now that we've covered some of the benefits of smart entry for customers, what are the benefits from an operator's standpoint? Managers no longer have to worry about labor intensive tasks such as unlocking units for new tenants to move in or the dreaded overlocking and lock check processes, as these are automatically done for you. You can also view real time data such as who is at your facility and how often, what entry points they've accessed, unusual activity inside units via motion sensors, and instantly see the status of every unit.
Added bonus: many owner/operators are getting premium rates for these "smart units". Just take a look at the quote below from a customer who's implemented smart entry at several of his facilities.
"We're getting 30% premiums over our competitors at our facility in Marana, Arizona. That facility is in a retirement community, and our tenants loved the technology so much that we replaced PTI with the Nokē system at our 6 properties in Texas and Utah."
-Travis Morrow, President of National Self Storage
Are you ready for the best part? With new external, on-door smart locks, you now have the option to purchase your new doors with these smart locks pre-installed and easily turn an outdated facility into a forward thinking, high-tech smart facility in a fraction of the time!
For the Win-Win
You've seen the benefits, the outstanding ROI, and how to outmatch your competition, so what's holding you back? Your customers are looking for the best quality and safety (and will pay more for it) so why not give them just that, while adding value to your facility and increasing your revenue? The process is easier than you may think, and with an industry leading self-storage door replacement program, you can have 24 doors replaced in as little as 24 hours.
Click here or the button below to watch our video case study to learn more about increasing the value of your facility by replacing the doors and hallways at your self storage facility!