Isn't it Time You Got Rewarded for Your Self Storage Renovation Projects?
[AN INFOGRAPHIC BLOG]
The self-storage industry has been around for decades. That being said, many self-storage owners have owned their facilities for 20 years plus, and are in serious need of some upgrades. This industry has come a long way from where it started; in fact, it used to be known as the "junk yard industry" and a place people used to just dump all their stuff. However, fast forward 20 plus years later and here we are. Storage facilities are way more modern than they used to be…almost unrecognizable. People have more things they need to store and want the best of the best. And since the demand for self-storage is at an all-time high, people are looking for the facility with better curb appeal, higher security, and better quality doors when storing their valuables.
We've put together some examples of a few facilities who have upgraded and improved their customer experience, the rewards for making those upgrades, and why restoring, rebuilding, or replacing at your facility will increase ROI and help your bottom line!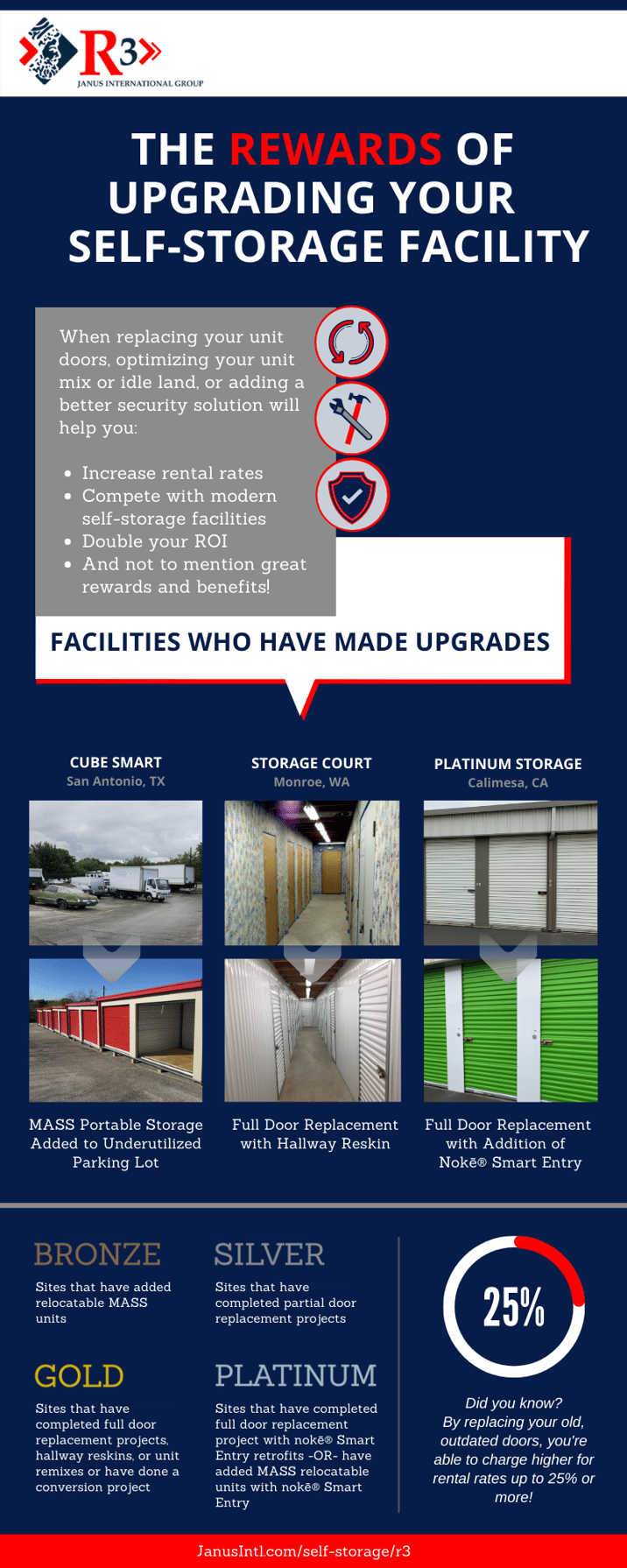 What This Means For You:
Door Replacement
When doing a door replacement at your facility, you're able to charge higher rental rates per month up to 25% or more! So on average, a renovated unit could generate up to $5 per month rent increase. It may not seem like a lot but multiply that by 100 units and you have yourself a $6,000 increase per year in revenue.
In addition to that, you could take advantage of the cost segregation benefits. When replacing your old doors, the value of components disposed of during the course of your self storage renovation is identified, meaning the value could be taken as a loss allowing you to write off the remaining basis that has not already been depreciated. Cha-ching!
Smarter Security
It's not only about the appeal, protecting your investment is also a big key! Adding an access control and smart entry system offers both tenants and self-storage owners/operators peace of mind and ease of access. This smart solution allows mobile phone entry at the gate, slide doors, overhead doors, elevators, unit doors, and more [and can now be installed on your swing or roll up door during manufacturing]. Industry leading systems also include motion sensors inside every unit and send a notification if there is any unauthorized activity going on. And with digital key sharing to allow tenants to send a digital key (and revoke at any time) to family, friends, or business associates without the hassles of or worries of giving out codes or making copies of keys, this access control system is changing the game… not to mention increasing your profits!
MASS Relocatable Storage
Adding MASS relocatable storage units to your site on unused parking or where zoning isn't permitted, could potentially add more value to your facility and allow you to quickly add additional income. These portable units are classified as equipment and blend seamlessly into your existing storage facility, with numerous color options to choose from. And did you know that under Section 179, these MASS units are eligible for 100% tax deduction after just one year?
Renovating and making upgrades will not only help your facility look and feel more modernized, provide higher security and customer convenience, but it could greatly increase your ROI and help your bottom line. There are several ways to add value to your facility, and if you're worried about the costs that go into it…when upgrading, you stand to generate far more than what you put in.