Answering the BIG Questions About Self Storage Doors
The quality and durability of your storage doors are definitely key for a successful facility. It's the first thing your tenants notice, and we all know first impressions are everything. Whether you own a self storage facility or planning to build one, we've put together this blog to help answer some of the most frequently asked questions, how other storage doors compare to the industry leading doors, and a few helpful tips to get you started!
What do I look for when selecting the best door?
When shopping for your roll up doors, here are a few things to consider:
It's important to choose a door that won't cost you more money in the long run. The reality is, quality always beats cost and storage unit doors are certainly not exempt. Choosing doors that are specifically designed with durability, quick installation, and ease of maintenance in mind will put more money in your pocket down the road. In fact, many customers will gladly pay more at a facility where the doors appear well maintained and are easier and safer to operate, not to mention the money you'll save on maintenance and repairs.
What is the standard size door?
There's really no "one size fits all" type of scenario here. Each door is fit to the opening of your storage unit. Although, doors on a 10' wide storage unit are commonly 8' x 7', you can get roll up doors in sizes up to 10'w and 12'h, as well as swing doors, to best suite the needs for your storage facility.
Check out our award winning self storage door models below:
How do I choose the right door color?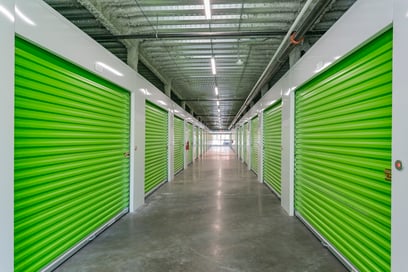 Choosing the right color for your self storage doors is a big decision and the first thing your tenants tend to notice about your facility. A big question self storage owners ask is "should I play it safe with a classic or low-key color or are bright colored doors a better option?" One of the great benefits of selecting an industry leading door is that you have over 30 colors to choose from, providing more flexibility to customize your doors to match your brand. While a more classic color may feel more comfortable, bold color schemes can really give you that eye-catching wow factor allowing you to really stand out from the competition.
No matter what color grabs your attention, the most important factor in your decision should be the quality of the paint itself. Choosing the cheapest available option is probably only going to end in heartbreak, because the old saying is true: you get what you pay for (especially with exterior paint being subjected to the elements at all times). With a 40 year limited paint warranty on the industry leading doors, you can also rest easy knowing your door colors won't be fading anytime soon!
How do you replace the springs if they break?
The primary reason springs tend to break in the first place is due to rust build up. Rust weakens the metal and causes friction on the coil. Most traditional storage doors don't come with pre-greased springs, however on the industry leading self storage roll up door, the springs come pre-greased upon purchase with white-lithium grease to guard against rust.
"I can count on one hand the number of springs we've had break over the last 17-18 years."
- Richard Lillie, VP of Business Development R3 for Janus International
If for any reason the springs do happen to break, if the door is under warranty, another barrel/axel assembly which houses the springs inside will be provided. To assemble, you remove the old barrel, install the new one, and you're done!
Traditional doors are known to be EXTREMELY dangerous to replace the springs. However, on the industry leading storage door, you never see or touch the springs. They're housed inside of the barrel, making it safer and faster to replace while providing a superior product versus all other storage doors on the market today.
How do I tension the springs on my door?
Unlike most storage doors, the best part about the high quality industry leading door is the patented tensioner that allows you to provide tension to both springs at the same time. This creates the same tension on the left and right side of the door which allows the door to roll up evenly in the opening. This tensioning system is the safest and most user friendly in the sheet door industry!
"When I worked at Public Storage we would replace doors if we could not open them up with one hand. As you know, if an industry leading door is tensioned correctly a normal person can basically open it up with one finger which is awesome for the older customers."
- Alex Fouquette, Director of Estimating R3 Division for Janus International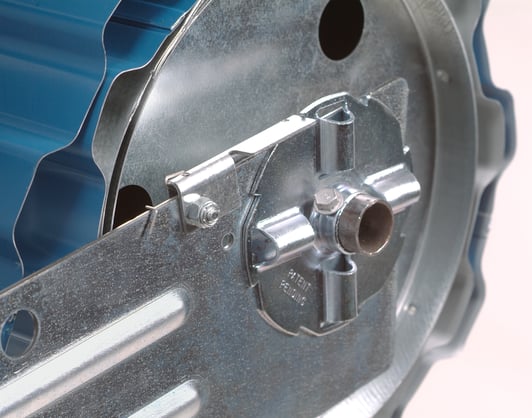 How do I know if I have the right tension?
Most vendors suggest their doors be tensioned monthly which creates a huge liability. When unlocking the door, it shouldn't fly open. It should require a small amount of upward lift to begin to open and then at roughly knee level. The door should stop and stay there without continuing to rise or fall back into the closed position. Storage doors should only be tensioned a few times a year at most! Anything more than that is too much and could cause damage.
---
HAVE MORE QUESTIONS?
CLICK HERE TO LEARN MORE ABOUT OUR AWARD-WINNING SELF STORAGE DOORS!