Whether you are using a smart phone, an iPad, or a tablet to show tenants a unit and give them a tour of your facility, it helps to introduce them to the tenant mobile app at the same time.
Access this feature by opening the Nokē Storage Smart Entry mobile app and selecting the Settings menu on the bottom-right corner of your screen. Next, select Demo Mode, and then choose a unit from the list of vacant units available at your facility. Your manager app will now appear to look like the tenant version of the mobile app, while maintaining your access functionality.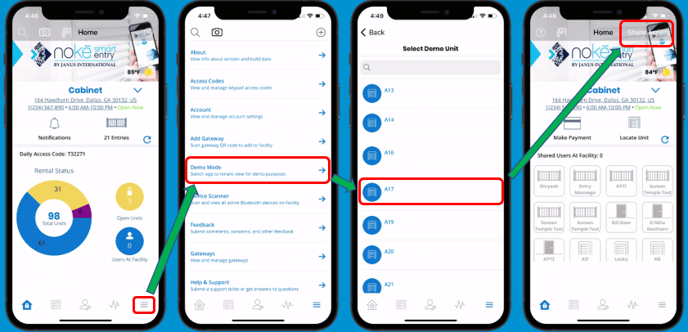 Pro Tip: Select the unit your customer is interested in during your tour so you can demo how the tenant mobile app works. Explain how the icons will light up when you are in range of an entry point and when in range of the tenant's unit.
Use this time to show your customer how the Nokē Smart Entry system works in real-time. While pointing out the features your facility offers them in addition to the Nokē Smart Entry system, explain how these two systems working together will enhance their self-storage experience in ways that traditional self-storage operations cannot.
Click below to view tutorial(s):