How to get the Idle Users widget on your Home page dashboard, and what it reveals about your visitors.
One of the dashboard widgets available to you is called Idle Users.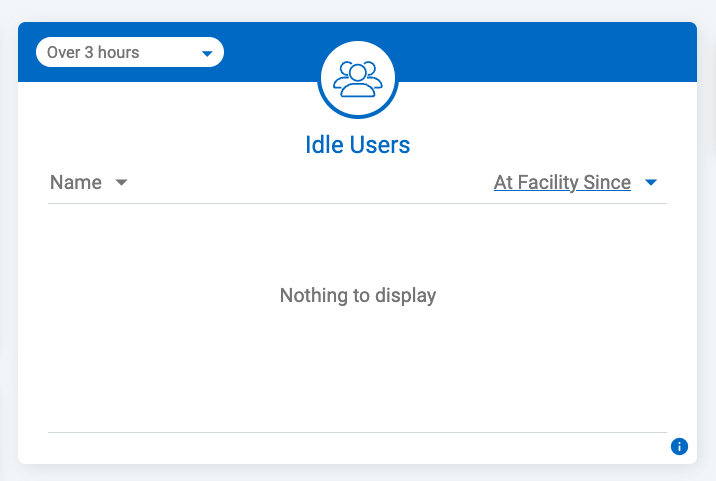 This widget is advantageous for managers or district managers to determine whether a tenant has been on-site for an extended duration. Lengthy periods of time on site may indicate suspicious activity or suggest that a tenant is attempting to reside on site.
In the drop-down in the widget on the left, you can change the time frame to show users who have been on-site for 3+ hours, 12+ hours, or 24+ hours. The default is 3+ hours.
The widget displays the name of the user as well as the date and time that the user entered the facility.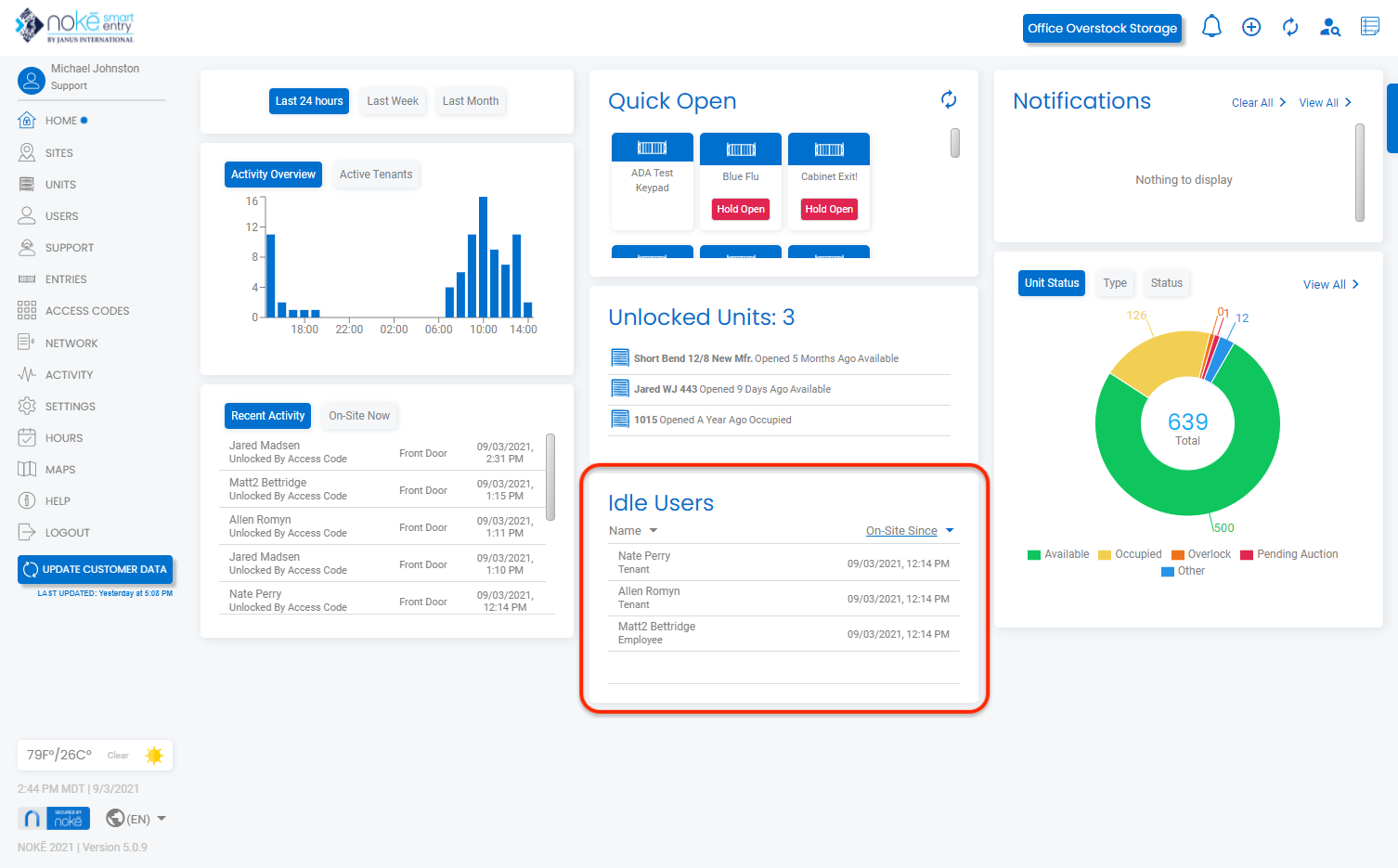 To display the Idle Users widget on your dashboard, it is important to have a few specific settings in place.
To display the Idle Users widget,
You'll need to ensure the facility has at least one gate set to
Exit
.
From the Web Portal, click Entries.
Select the enter/exit gate from the list.
Click Settings (gear icon).
From the Edit Entry form, click Information in the top left corner.
Set the Exit field to Yes.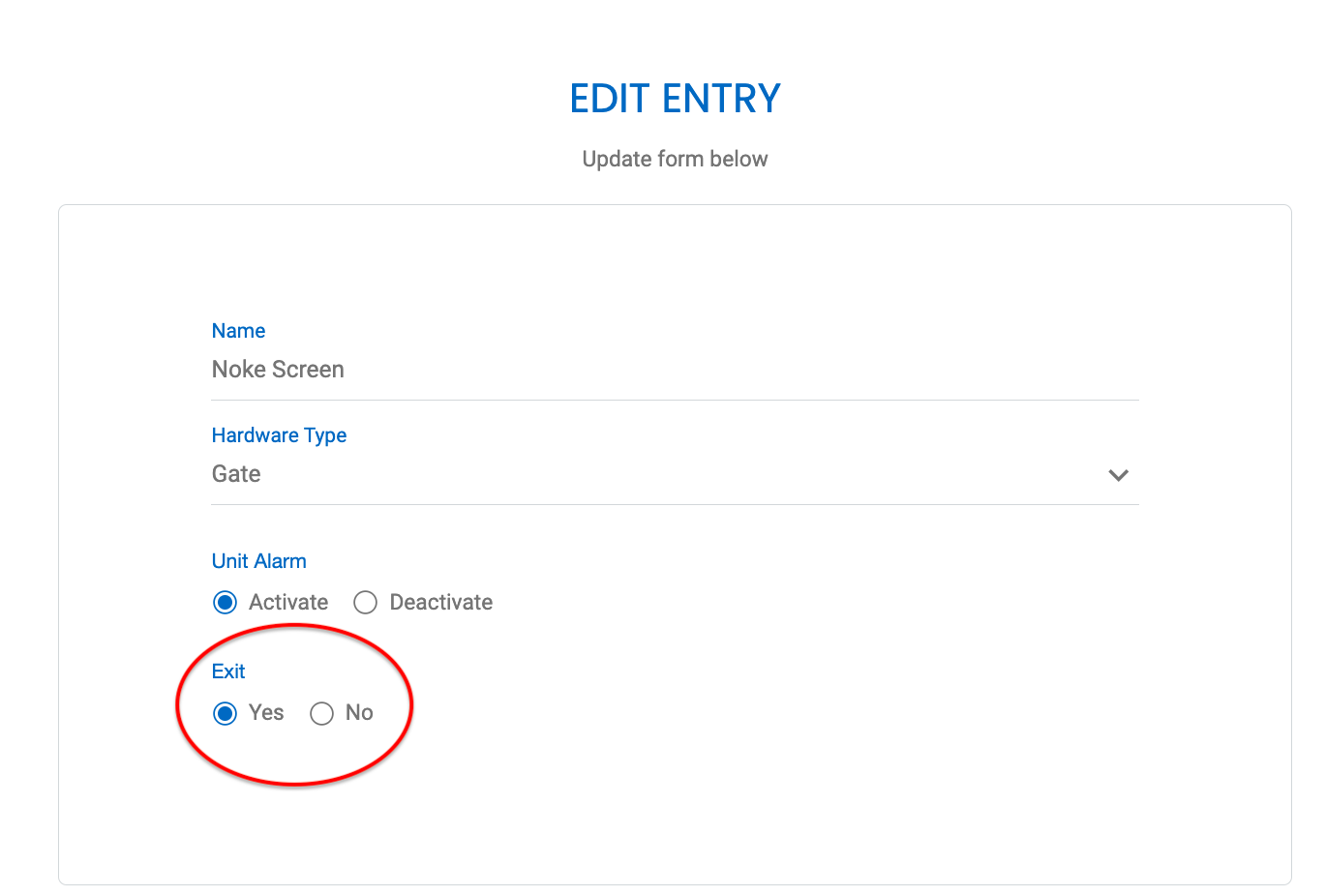 Note: If after editing Exit to Yes, you still don't see the Loitering Alert facility setting in your Employee section, try to log out and back into the Web Portal.
To activate the Loitering Alert facility setting,
From the Web Portal, click Settings.
Scroll to Employee Settings, and then click the Loitering Alert drop-down and select On.
To add the Idle Users widget to your dashboard,
From the Web Portal Home page, click the Edit Widgets pop-out to display the available widgets.
Drag and drop the Idle Users widget onto your dashboard.
For more information on adding widgets to your dashboard, click below:
Customizing the Dashboard
Note: Ensure all necessary settings are in place for the Idle Users widget to function properly and provide accurate information.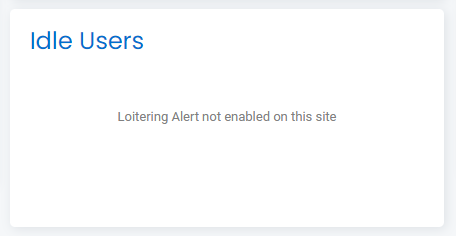 Permissions Needed
Manage Facilities

to turn on the Facility setting (Loitering Alert)
Manage Entry to set Entry Point to Exit
View Users to see the information inside the widget
If these selections are not visible, please reach out to an administrator to grant permission for your role type.