How to check and change how long an entry point will stay open when using the Quick Open feature from the Home page.
Open/Quick Open
One of the most widely utilized functionalities of the Nokē Smart Entry system is the capacity to remotely unlock your entry points, allowing users to conveniently gain access.
If the online entry points resemble the screenshot below (i.e. no dropdown arrow next to the Open button), it indicates that your device has the capability for quick open only and cannot be held open.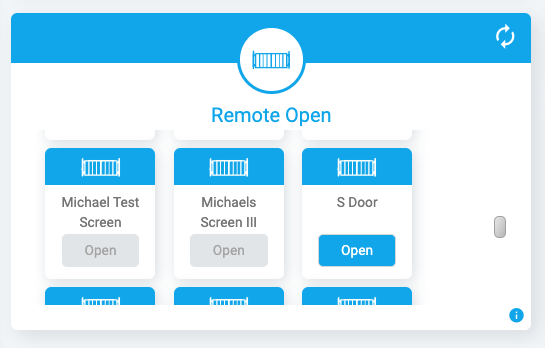 If your device does have the dropdown arrow, what we are referencing in this article is specific to the Quick Open option.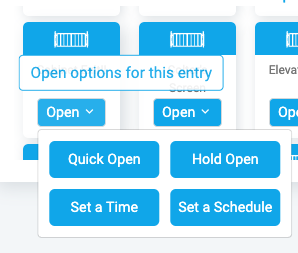 Determining the duration for which the device remains open upon pushing the Open/Quick Open button is a customizable setting within the Nokē Smart Entry system, subject to permission. This setting, known as the Fire Time, can be adjusted individually for each device to optimize your facility according to your preferences.
You can find this setting by,
Log in to the Nokē Smart Entry Web Portal.
Navigate to the Entries tab.
Click on the individual entry device you want to edit.
Make note in this section of whether the Hardware Version listed on this page is a 4K or not.
From the Entry Details page, click the Settings (Gear Icon) in the top right corner.
Click Settings.
In the Settings section, you will find the option to adjust the Fire Time. This setting can be customized within a range of 0 to 255. However, it's important to note that the interpretation of these numbers varies depending on whether the device being edited is a 4K device or not.

For 4K devices, the 0 - 255 number is the number in seconds.
For all other device types, the 0 - 255 number is the number in 1/10th of a second.
4K Devices
If the device is a 4K device, whatever number you enter will be the number in seconds it stays open (i.e. 5 entered for 5 seconds open, 10 entered for 10 seconds open, etc.)
Cheat Sheet for Setting Non-4K Devices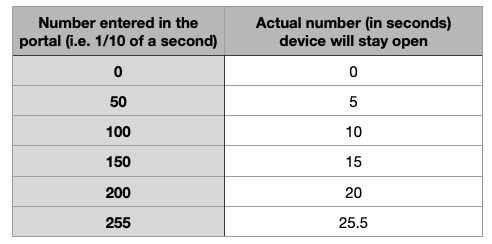 Permission Needed
Contact an administrator to add permission to your role type, if needed.
For more information, click below:
Opening an Entry Point as a Tenant