Track recent move ins and follow up with mobile app setup, registration, and unit preparation tasks.
The Recent Updates widget is a valuable tool for monitoring recent move-ins and addressing any mobile app setup or registration concerns.

To access the User Details page, simply click on the tenant's name. From this page, you can easily determine if the tenant has successfully registered their account. The Created field displays when the tenant received the activation code, while the Activated field shows when the tenant completed the account registration process.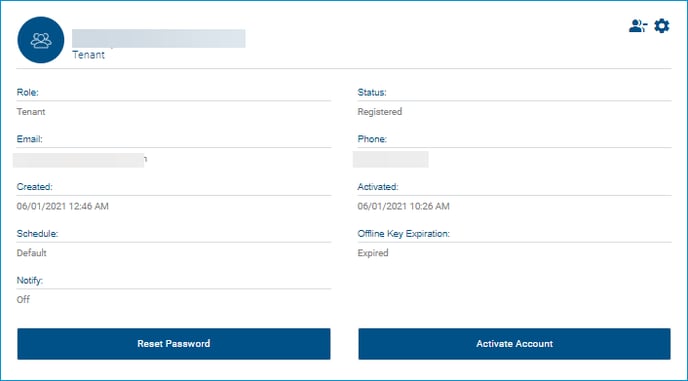 The Activity widget on the User Details page provides useful insights about the tenant's unit, including their facility visits and move-in progress. Furthermore, the widget also highlights the creation of any Shared User accounts. The Activity widget provides a history of what's been happening in the unit.

The User Details page and Recent Updates widget are helpful tools for monitoring tenant activity and improving their overall experience. By reviewing the tenant's registration status, unit activity, and any shared user accounts, you can identify areas where you can offer assistance or support.
Consider the following customer service questions:
Has the tenant successfully registered the mobile app?
Do they require a new activation code or PIN?
Have they visited the facility yet?
Is the unit in need of cleaning or preparation for the new tenant?
Do they know the hours of operation?
By addressing these concerns, you can ensure that your tenants have a positive and seamless experience with your services. Or, you may witness their genius as they effortlessly navigate the app, which is exactly what smart storage is meant to do.
Additionally, tenants can select Shared Units by clicking on the Recent Updates drop-down arrow located in the upper left-hand corner. This widget offers insight into all tenants sharing access to their unit and with whom they are sharing it.

Permissions Needed
If these selections are not visible, please reach out to an administrator to grant permission for your role type.
For more information, click below:
Mastering the Virtual Walk-Thru Checklist