How to educate your tenants on some of the security features included with the NSE system, and why they don't want to put additional locks with our Nokē Volt locks.
Introduction
There are many benefits when renting a Nokē Smart Entry that are not found in traditional storage, but sometimes it's hard to convince people that two locks aren't better than one. In traditional storage units, there is a place on the door hasp for two locks. One is used for a tenant lock and the other is supposed to be left available for facility management to overlock the unit.
Tenants really don't want anything bad to happen to their belongings. Their items are valuable to them. The loss would be devastating--and they want extra protection. So, they use the maximum locks a latch can accommodate for the most protection available, to try to have the best security they can on their units. Unfortunately, if there was a security breach to the facility, what the double tenant locks have actually done is caused the unit to stand out and draw negative attention to that space.
A thief would now wonder, "Why does this unit need two locks?" The message is clear, this unit is more valuable than its neighbor. What started as an attempt for more security has instead advertised it a target for unsavory elements.
Good news is that your customer wants and values security, and they've come to your storage facility which offers Nokē Smart Entry! You can offer them much more than double locks--you've got state-of-the-art amenities that provide the peace of mind they're looking for. In fact, for anyone visiting your facility, they will not be able to tell the status of a unit unless they have appropriate credentials and are viewing it from the manager's mobile app, due to the fact that Nokē smart all appear the same, so no unit stands out as more valuable than its neighbors.
Enhanced Security
Tenant locks come in a wide range of options, including different qualities, sizes, materials, and styles, which ultimately determine their effectiveness. Nokē Volt and Nokē ONE locks are constructed with hardened, reinforced steel, but it's what's on the inside that really counts. Tesla batteries, electronic locks, Bluetooth 4.0, thermal motion sensors, and mesh connectivity are all working together to give the tenant an all-new storage experience.
That means your latch and locking system are working to secure the unit, track tenant actions, check for any activity in the unit other than door motion, give your tenant easy access, and remain in constant communication with your operations.
Digital Lock Checks 24/7
A diligent manager performs a lock check once or twice a day, walking the entire property to visually inspect each lock on every unit to make sure all units are secured and nothing is amiss. The manager compares his physical findings with the report generated by the facility's property management software (PMS) system, noting any differences they come across. With Nokē smart locks, the devices are actually doing a lock check on themselves all the time, reporting back valuable information to the cloud.
When did a tenant open their door? Which user opened the door? Is the door armed and secured? Is there any motion activity in the unit while the door is armed? All of this information is being communicated, recorded, and even more importantly, timely notifications of issues discovered are sent to the managers and tenants. For the first time you can know what is happening at your facility at any time, no matter where you are, just by logging into the Web Portal or you manager's mobile app.
Not only can the facility see the information, but your customer can now manage their own unit and activity from their tenant's mobile app too. The tenant logs in to ensure his unit is safe and secure, performing a virtual lock check. That's the kind of trust and accountability that traditional storage and padlocks could never offer them before.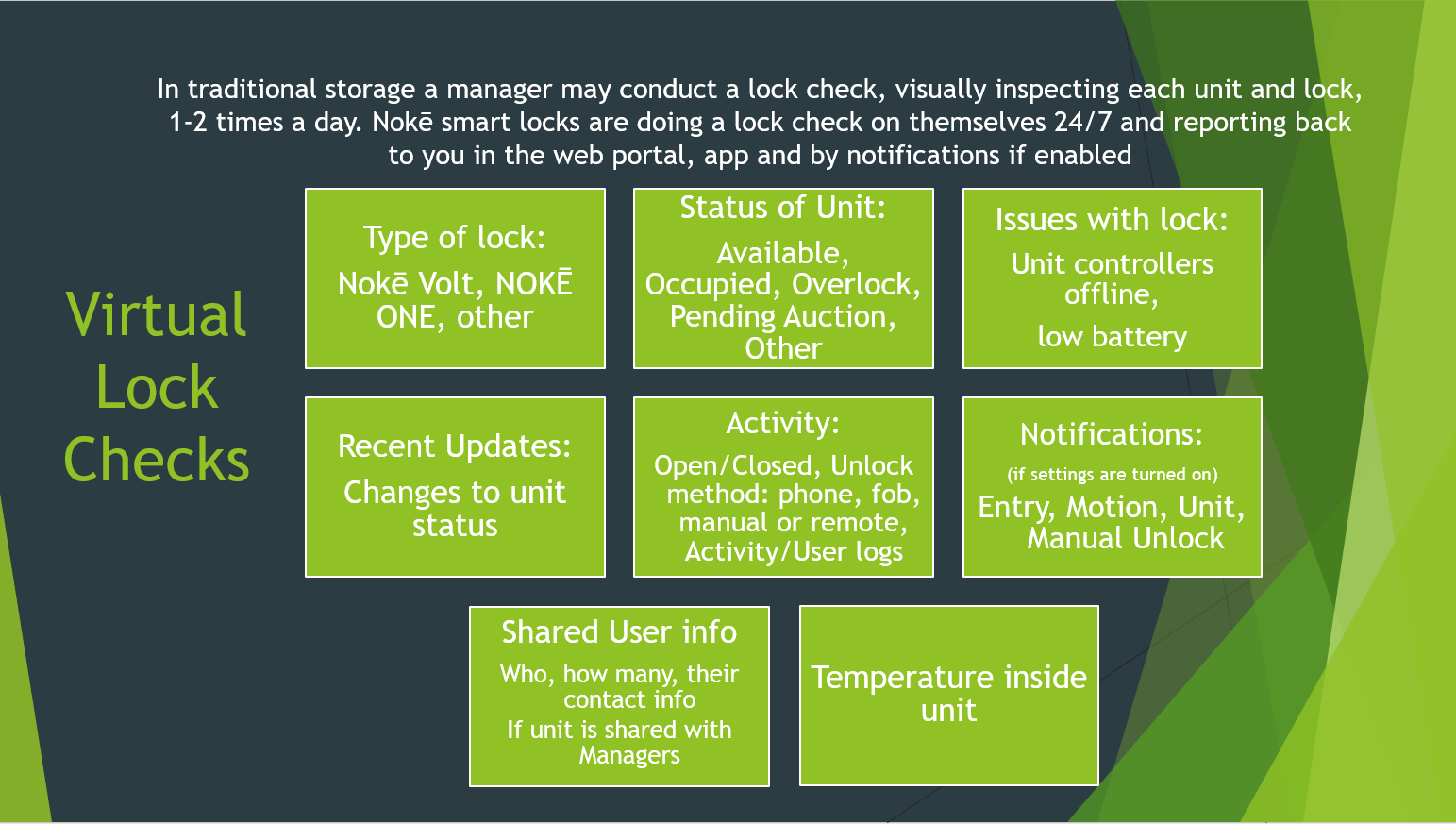 Smart Lock Management
There are additional articles that provide more in-depth information on these specific topics. However, when comparing the use of traditional locks with regular keys by tenants, it is much simpler for a manager to assist a tenant in using a smart lock and digital keys.
Downloading the tenant's mobile app after a rental is as easy as receiving a text message to a smart device. The tenant never has to worry about losing keys. Even if a tenant loses or upgrades her phone, the mobile app can be installed on a new device and the tenant can sign in with the same credentials.
Your tenant is in control of who has access to her unit, and she can easily share her digital key with other users and view all unit activity from the mobile app. The tenant easily adds users and revokes them as needed. If a tenant was to add a padlock in addition to her smart lock, she would have to give those users a physical key to the padlock as well as share a digital key for mobile app access.
Gone are the days of cutting locks when a padlock is jammed, the tenant loses her keys, or needing extra keys made because the few the lock came with were not enough.
What about the loss of merchandise sales?
By offering these premium unit amenities, your tenants are receiving more than just a lock. This presents an opportunity for you to reassess your unit rates, evaluate your facility's position in the market, and determine the value proposition you provide to your tenants to discover avenues for revenue growth. Additionally, your customers will still require other moving and packing supplies to safeguard their belongings.
Why all smart units look the same?
In traditional storage, it's easy to determine the status of a unit just by looking at the lock on the latch. While sometimes the color may vary on vacant manager locks, they are still very easy to distinguish. There are many different types of locks available for tenants to buy to secure their unit, but again, it is obvious that a unit is occupied. Most companies use red locks for overlocking delinquent tenants and units prepped for auction are simple to spot and have an auction seal.
Note: Since a rented unit is more valuable than a vacant unit, it is important to protect the identity of your occupied units by not allowing a tenant to put an additional lock on a smart unit latch.
For more information, click below:
Advertising Nokē Smart Entry to Tenants Visiting Your Website
Explaining How Nokē Smart Entry Manages Power Outages at Your Facility
Closing a Nokē Smart Entry Sale
Explaining Why the Nokē Storage Smart Entry Mobile App Needs to Know a Tenant's Location