Help with closing a sale on a smart unit, walking through the rental process, and getting a new tenant set up in the NSE system.
Introducing the Nokē Smart Entry System
When a prospect comes into the storage facility for a tour or calls inquiring about getting a space, here are some ways to start talking about smart storage with your customer.
If the tenant is on-site, we recommend that you try to accomplish the following goals:
Get their information.
Find out why they need storage.
Help to pick a unit size that will be a good solution for their needs.
Give them a tour of the facility.
Show them how the tenant's mobile app works to open entry points and units.
Place your manager's mobile app in Demo Mode

to emulate what the tenant's mobile app offers them after renting the unit as a tenant.
Improving Customer Experience by Educating the Tenant
The tenant has never used smart storage before, but here are some answers to the tough questions that our industry faces. And, it provides the solution that tenants have been searching for--one that your competitors likely don't offer.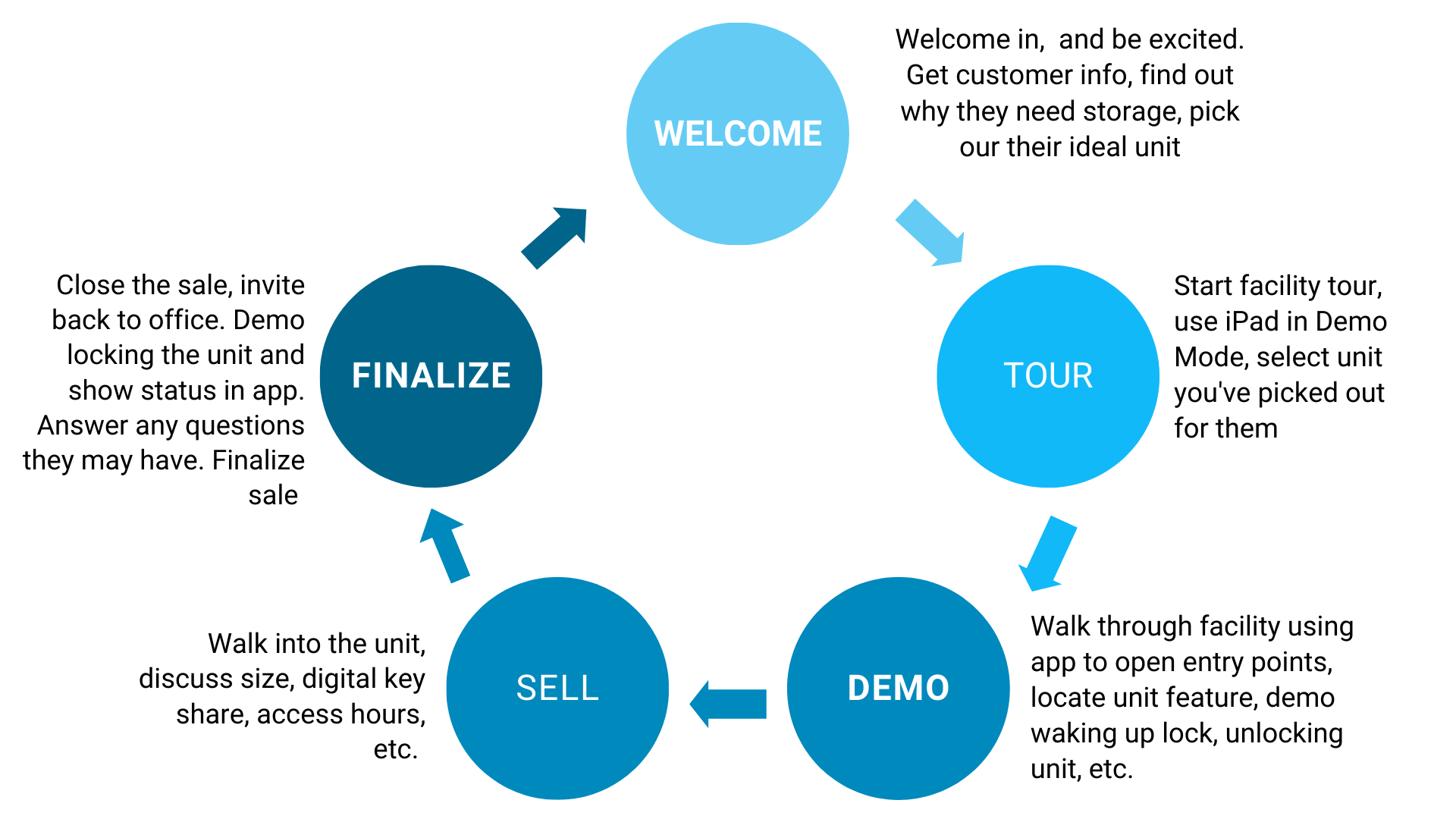 Setting Up the Tenant's Mobile App
Upon completion of the rental, a text message is sent to the tenant with instructions on how to continue. The tenants click the link and download the app to their mobile phones.
Note: The tenant's mobile app is called Storage Smart Entry by Nokē.
The text message the tenant receives looks like this:
Your <FacilityName> storage unit is ready. Download app. iOS or Android: http://noke.app Your temporary password to log in is <PIN>
Downloading the App
A smart device with Bluetooth is required to communicate with the entries and smart locks, and the tenant phone numbers are stored in your facility's property management software (PMS) system. The tenant's smart device must be able to receive text messages using a mobile phone number to receive text messages. Storage Smart Entry by Nokē is available in Apple and Google app stores. You can assist tenants with resending activation links and resetting passwords from the Nokē Web Portal.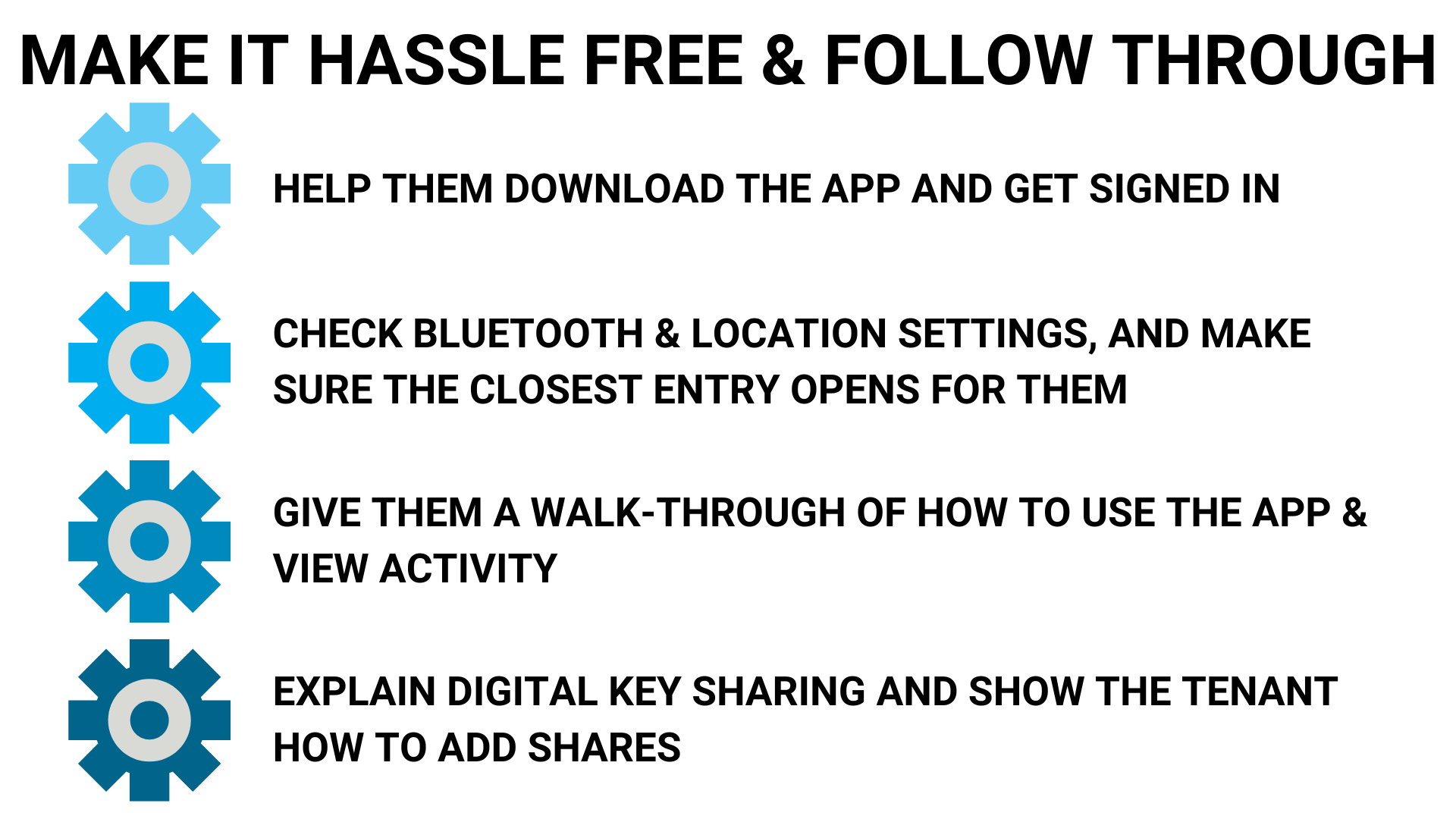 Show the tenant how to unlock their unit with their app:
Talking/Selling Points to Go Over with Your Tenants
Try to bring up as many or as few of the following talking points with your prospective tenants. Read the room and you'll see if they seem interested or not in one or two aspects of the NSE system. And then sell them a unit!
Unique Features
Share access to a unit with Digital Key Shares.
Revoke Access with the click of a button.
Provides industry-leading top-level security.
High Tech
Explain how Bluetooth is used to 'talk' to their phone or device.
Less likely to have break-ins.
Check the status of the unit from the comfort of your own home.
Simple
4.9 star rating on the Nokē Storage Smart Entry mobile app*.
Have your phone? You have your key.
No need to buy a lock, make copies of the key, and distribute them to others.
Business Tenant(s)
No key management required.
No limitations because of the number of keys.
Add and revoke access as needed.
*iOS Storage Smart Entry by Nokē app
For more information, click below:
Advertising Nokē Smart Entry to Tenants Visiting Your Website
Transforming Your Facility from a Traditional to a Smart Storage Operation
Explaining How Nokē Smart Entry Manages Power Outages at Your Facility
Convincing Your Tenants to Not Use Conventional Locks