Installation of a Storage Disability Products ADA compliance kit is easy with a few simple tools.
---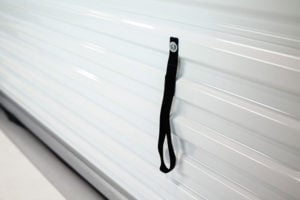 Installation Instructions:
TOOLS NEEDED:
Drill, Vice Grips, Scissors, Screwdriver
Drill hole in steel roll up doors (approximately 3 ripples below the door lock) no lower than 15" and no higher than 48".
Install short strap using washer and nut included. Use the vice grips to hold the nut while tightening with a screwdriver from the outside.
Use the foam strip provided to cover the screw on the inside of the door to protect it from damage.
Cut existing rope on roll up doors and attach the long strap.
Attach the sign on the wall beside the door lock.
RAMPS
Upon sending us the correct measurements, your ramp will be custom created and should simply lay in the opening against the lip of the door. There is no need to attach it to anything. Click here to view the measurements guidelines.